Due to the rapid growth in technology and user demands, massage guns are gaining more and more popularity among the public. These are handheld multifunctional massage devices that can be conveniently packed into a backpack or purse. There are many types of massage guns available on the market today, ranging from inexpensive to high quality. While online store offers and advertising bombard us from all sides, little attention has been paid to explaining the proper use of the guns and their individual attachments. At MISURA, we therefore don't stop at making quality massage guns and then selling them. It is important to us that our clients know how to use the massage gun correctly. They know which massage heads are designed for which areas. So the massage was really effective for them. Last but not least, we want our clients to experience a pleasant feeling from the massage. These are the reasons why we have created an article on how to use a massage gun.
When to use a handheld massager
It is logical to use a handheld massager when we feel pain that we want to eliminate or preferably remove. Massage guns can also be used before and after a sporting exercise, because thanks to the pressure pulses they can massage the area of the body and prepare it for the exercise.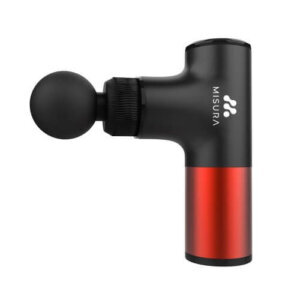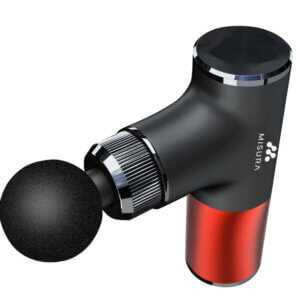 Massage before exercise
Before any exercise, the body needs to be sufficiently warmed up and prepared for physical activity. Stretching and warming up helps us to do this. But athletes should also include a pre-exercise massage in their schedule, which should be quick. It should not be intense, as more intensity helps to relax the tissues, and this is not advisable before exercise. With the right tactile cues, the athlete should feel arousal
Of course, time also plays an important role here, which is why proper stretching and warm-up are forgotten. And for the massage, we need a second person to perform the right strokes to get us excited. So how can we get the body sufficiently warmed up and ready for performance without having to spend time warming up or looking for a masseur?
MISURA massage guns are the answer. Because thanks to the massage device we prepare the body sufficiently for the performance and get the blood flowing in the body, the athlete can do without stretching and use the massage gun instead. Massage before exercise is suitable because it reaches deep into the muscle tissue with its pressure pulses, thus warming up and getting the blood flowing. In addition, you can use the massage gun again after the physical activity to speed up muscle recovery.
Which head to use on which part of the body?
As mentioned at the beginning, each head is shaped for a specific part of the body and should not be used on a part of the body for which it is not adapted. The massage may not meet expectations. The MISURA massage gun offers six heads for the MB1 type or four heads for the MB3 and MB4 types. MISURA offers the following heads: ball, spiral, air cushion, fork, flat and crescent.
The spherical head is designed for bulk muscle groups such as thighs, calves, waist, hips and arms. With the spiral head, you can indulge in a reflexology massage of the hands and feet. The air cushion head will be appreciated by users who suffer from joint or bone pain. For back, cervical spine and neck pain, the forked head is designed, where you need to pay special attention to the kidney and neck area during the massage. For massaging the arms or thighs, the crescent head is the perfect shape.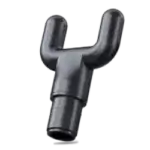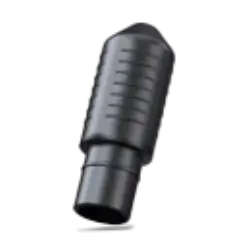 Massage gun MB1 Pro
The massage gun also comes with accessories. The price includes a case, power bank, charging cable and attachments.
Attachments – 6 types of heads for different types of massages and body parts
Battery – up to 8 hours of continuous operation
Case – easy and safe to move from place to place
What else to look out for?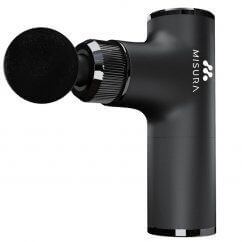 When using the massage gun, it is also to take into account that massage alone will not solve the problem. It requires your effort and diligence to fight your health problem – in the form of a good lifestyle, a varied diet and exercise. On your journey to a better you, we wish you lots of enthusiasm and motivation to improve your life. You can also pull out the massage gun whenever you want to have a relaxing experience or unwind in any way. You can also massage yourself while watching a series or movie.
Why is the massage gun useful?
Although the name of the gun, may make people's hair stand on end, it is a very useful tool that has proven itself to be very useful for high-performance athletes. Recently, it has also come to the attention of people who are not involved in professional sports. But they are bothered by pain with their back or other parts of their body that limits them in their daily life. What is a massage gun useful for?
it speeds up blood flow
relieves muscle tension
speeds up rehabilitation after injury and recovery after sports performance
helps healing of scars
increases lymph flow
helps reduce fatigue
Types of MISURA massage guns and their comparison
MISURA offers three types of massage guns, MB1Pro, MB3 and MB4, which have a different range of capabilities and features. The first type includes a pack of six heads that can be used on different parts of the body. The smaller MB3 and MB4 types include four heads. It's simple. Just swap the attachments and you can give a massage to the tibia, for example. In terms of volume, the MISURA guns emit only 35 decibels. They are therefore very quiet, so they won't disturb you while you relax. Moreover, they reach muscle tissues up to 12 mm deep, which massages the body part very well. You can read more about them below and choose the best one for you.
The MB4 Massage Gun is a lightweight massage device that uses pulsating vibrations to contribute to overall body performance. It hits muscle groups up to a depth of 6 mm with its pressure pulses. The massage achieves relaxed muscles and eliminates pain.
It is a small device that has a power of up to 2800 revolutions per minute. The package also includes four heads that can be used on different parts of the body. It can also be considered as a great advantage that it serves as a power bank, so while you are exercising, you can charge your phone through the massage gun.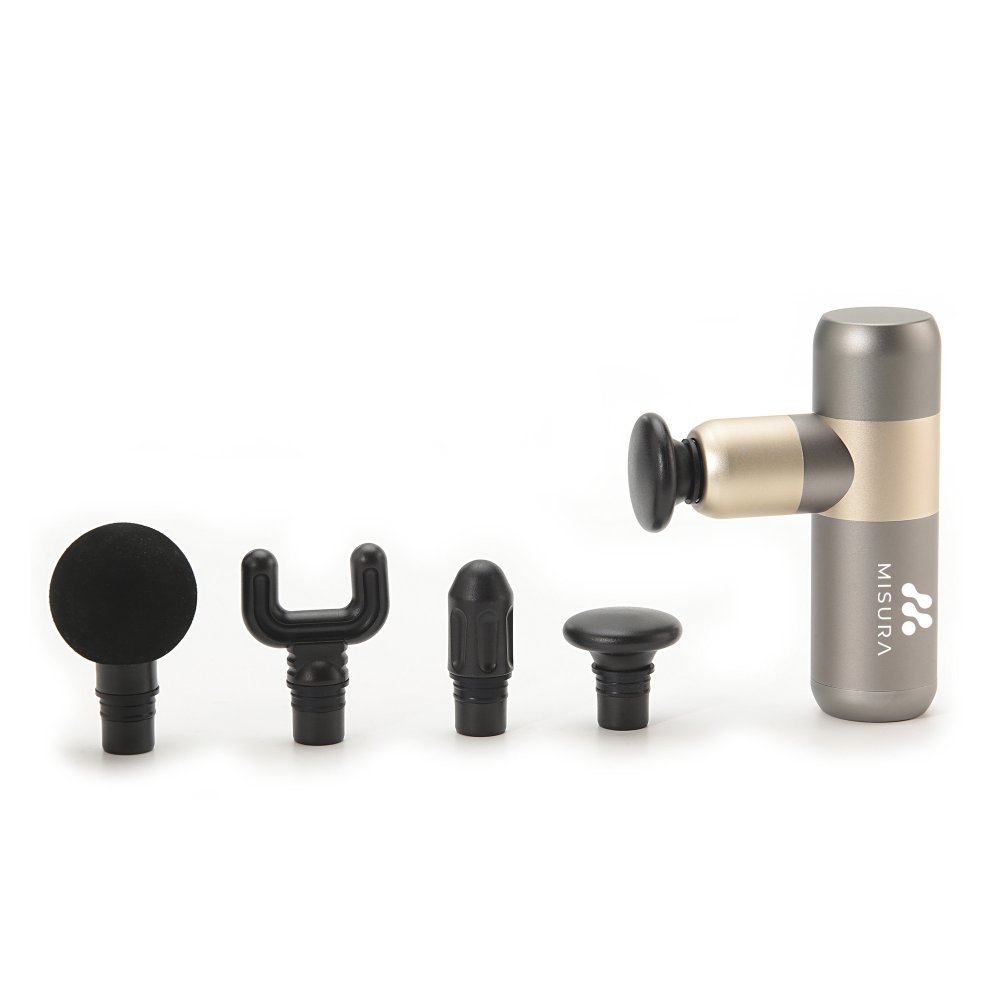 Massage gun MB4
Massage gun MB4, 14.5 x 9 x 4.5 cm, Operating time 3-4 hours, Li-ion battery 2000mAh, Package includes Massage device, 4x massage head, Instructions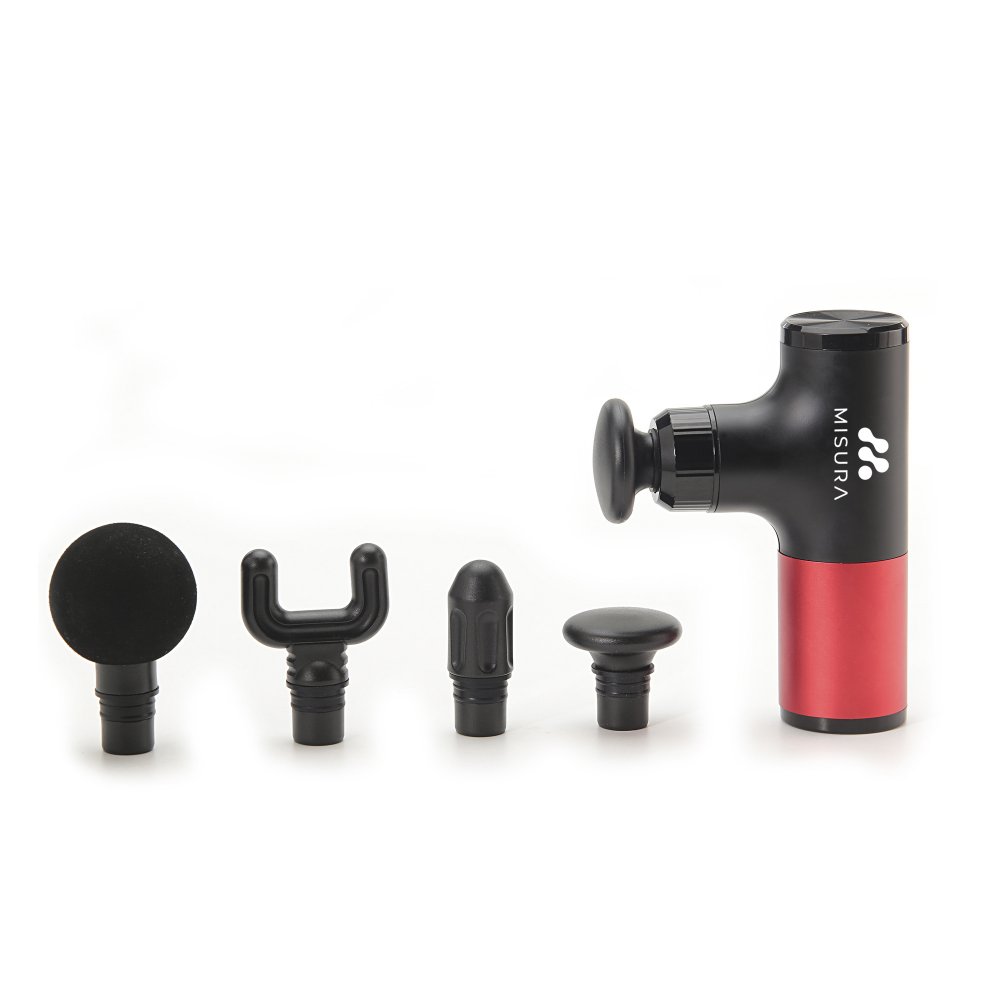 MB3 massage gun
Massage gun MB3, 14.5 x 9 x 4.5 cm, Operating time 3-4 hours, Li-ion battery 2000mAh, Package includes Massage device, 4x massage head, Instructions
The MB3 Massage Gun is a smaller massager that allows for easy handling with its ergonomic non-slip handle. It is lightweight but also quiet when in use, reaching only 35 decibels.
It has the advantage of a variable four-stage frequency and an intelligent vibration pressure sensing mode that adapts to the user's needs. Using the amplitudes, you can indulge in a massage to suit your taste. It includes four replacement heads that can be used on different parts of the body. This massage gun also works as a power bank, so you can charge your phone while you exercise. Use the massage to achieve relaxed muscles and improved blood circulation.
The MISURA MB1 Pro massage gun is an innovative quality massage device that reaches deep into the muscle tissue with its pressure pulses. This results in better blood circulation, the breakdown of lactic acid, as well as accelerated regeneration. Another advantage is its silent mode, which reaches a maximum of 35 decibels.
Together with the gun, six massage heads are included in the package, which can be used on different parts of the body. It also offers the option of five speed modes, allowing you to indulge in a massage that suits your needs. The massage gun is equipped with two modes, namely manual and SMART mode, which activates the smart pressure measurement technology. The intensity of the massage is then adapted to your requirements.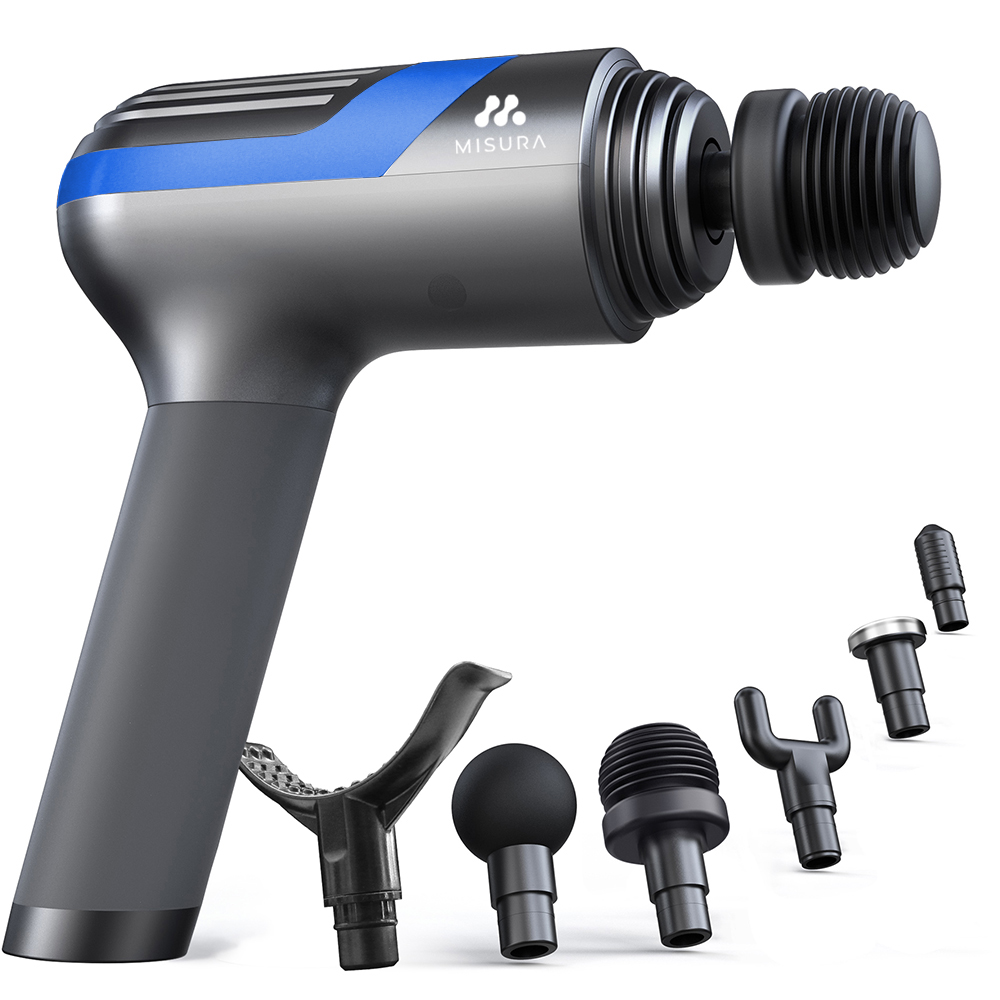 MB1Pro massage gun
Massage gun MB1Pro, 25 x 7.5 x 22 cm, Operating time 8 hours, Battery Li-ion 2500mA, Package includes Massage device, 6x massage head, Power adapter,…
How often do I use the massager?
This criterion is also influenced by your needs. For example, the MISURA massage gun is equipped with the Smart Shutdown time function, which has an automatic setting that switches off after 10 minutes of continuous use. This prevents prolonged massage on one part of the body, thus eliminating potential damage to muscles and bone
Muscle massage – what it is good for and how it works
Muscle massage is a part of life for athletes and people who are not so involved in sports. Before any massage it is important to relax and be sufficiently warmed up. During the massage, the muscles are relaxed, the pain is removed, and the blood circulation is also stimulated. Thanks to regular massage, fatiguing substances, which we consider to be lactic acid, carbon dioxide or creatinine, are then removed. The tendons and muscles are then better blooded and do not develop painful stiffness, which causes pain precisely because of the lack of blood circulation.
The muscles are then not as efficient, and massage is the solution that will cope with both flaccid and stiff muscles. No part of the body should be forgotten and therefore every muscle in the body should be given a massage. MISURA massage guns contain up to six heads that can be used on a given part of the body. In the package we find a forked, spiral, flat, crescent and air cushion head. All heads are ergonomically shaped for the body part in question.
Massage gun as the most suitable massage device?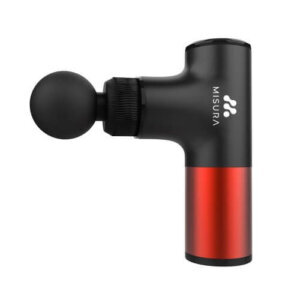 Due to its shape, the massage gun seems to be the most suitable massage device. These usually offer multiple attachments for massage. Common sense may logically tell us that it is best to choose the one whose package contains more attachments. Since each attachment is designed for a different part of the body, it is important to keep in mind that massage is not about quantity but quality. The device must work in such a way as to help the person concerned with his pain. Therefore, it is also necessary to look at how deeply the massage gun can reach the muscles when choosing one.
Why use a massage gun after exercise?
Every exercise requires subsequent recovery. Rest, rest and muscle massage are recommended. The massage stimulates the muscles and relieves tension in them. In addition, it allows you to enjoy a pleasant relaxation after a busy day. That is why there are massage devices that help you with regeneration. With the MISURA massager, we find a spherical head that, when used, reaches muscle groups up to 12 mm deep. This quickly dissolves the lactic acid that is formed by physical exertion and thus relieves tension in the muscles. It is therefore suitable for bulk muscle groups such as thighs, calves, waist, hips and arms.