How to choose the right massage gun? It can be difficult to navigate the wide range of massage guns and find one that will meet your expectations and work reliably for a long time. When choosing a massage gun, there are several important parameters to consider: power, battery capacity, noise level, size, weight, ergonomics and durability of the massage gun.
Power and depth of penetration of waves into the muscles
You should pay particular attention to the power, which is related to the frequency, pulses and also the depth of penetration into the muscle tissue. The perfect interplay of these points creates a quality massage gun. These points are important, as then the massage can be really effective and ensure you a result. The strength of the vibrations or pulses usually ranges from 2000 to 3200 BPM. The frequency or strength of the beats provides a range from 25 to 55 Hz. If the values for these parameters are high, the massage with this device will be more intense. It depends, however, on each individual what intensity he is able to bear
Therefore, it is better to choose a device where you can adjust the intensity or get a device that has a built-in timer, which will not damage the massaged muscle or body part. Logically, the deeper the intervention into the muscle tissue comes, the more effective the massage is and the painful area will be helped the best. These parameters should be key for you and should be prioritized over other criteria such as the size or weight of the device. Depth indicates how deep the head can go and which tissues it can penetrate. It is best to choose a higher depth intensity as this is the only way to achieve maximum effect.
Noise level
You can also tell a good massage gun by the noise level it declares. Logically, the lower the noise level, the better the massage gun, because it won't annoy you with noisy buzzing or vibrations that won't make you enjoy the massage 100%. The massage machine should reach a maximum of 60 decibels.
Size and weight
Here again, the rule applies. The lighter the gun is, the better it is to handle. Massage guns are around a kilo, but you can find heavier and lighter devices. It also depends on the type of massage gun, as there are larger but also smaller types. You will be holding a vibrating massage gun in your hand for at least 10 minutes, sometimes longer, so every gram counts. Devices with less weight will be better for you to hold.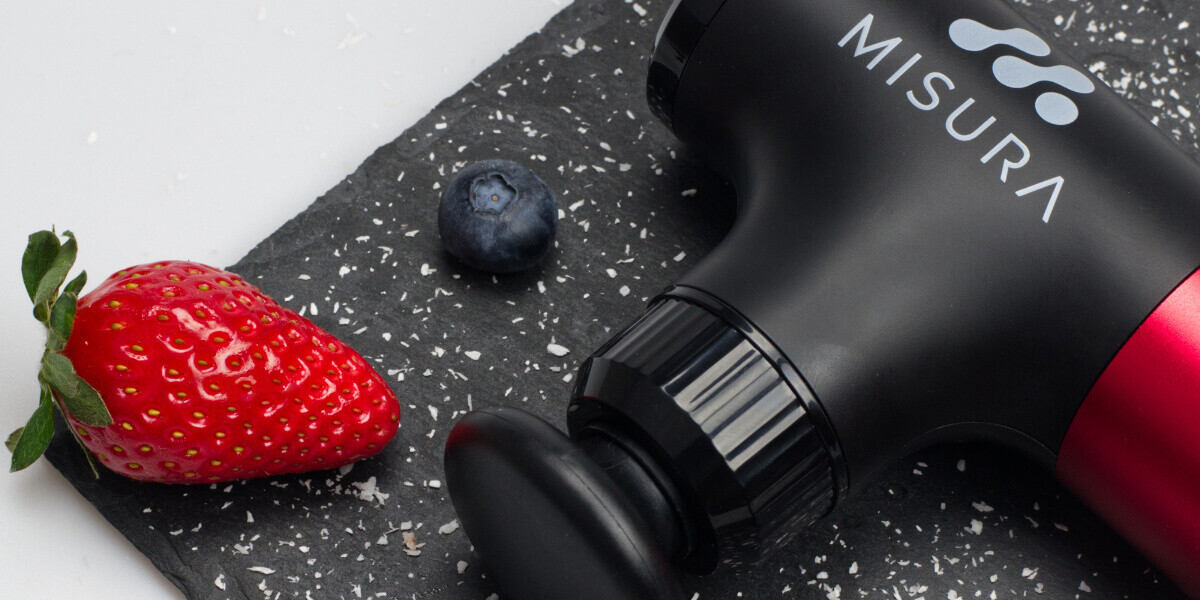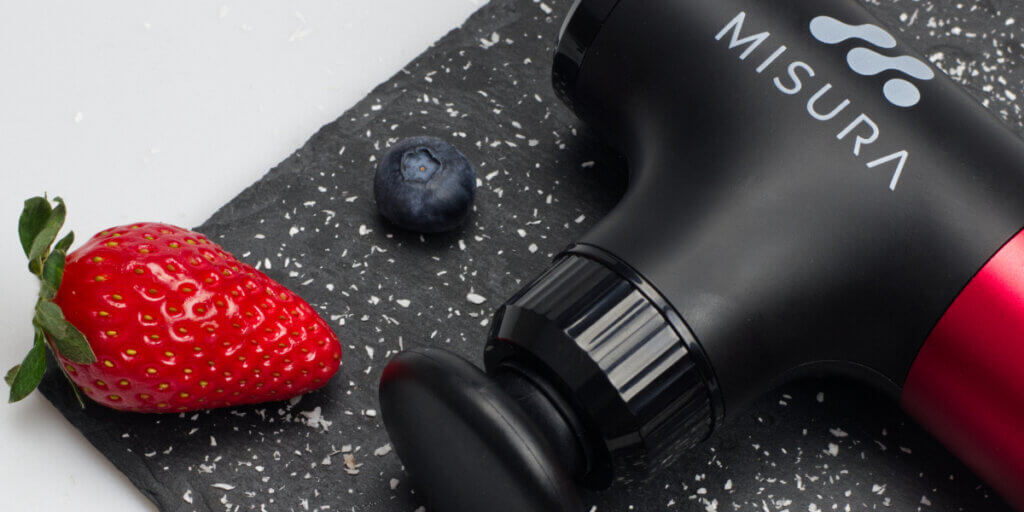 Apart from the weight, you need to watch the overall dimensions, both for travel and carrying and for the load that will be exerted on your arm. The most advantageous in this respect is the collapsible design, which allows you to separate the attachments and the additional handles and store them in a practical carrying case. However, most of these devices are on the whole collapsible, so you don't have to worry about not fitting them in your luggage.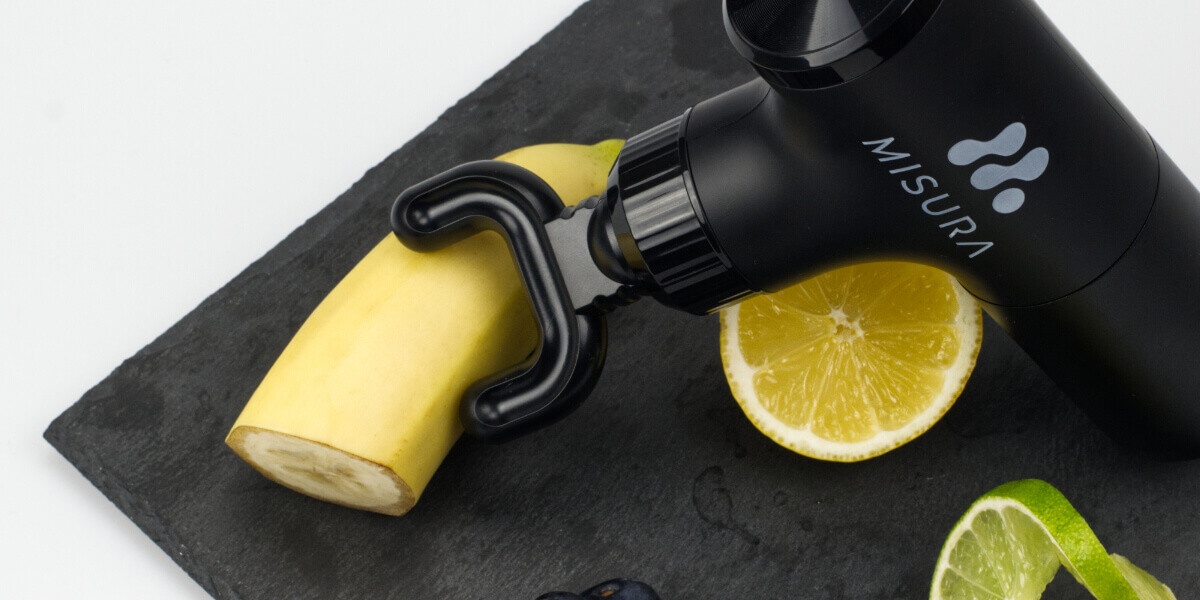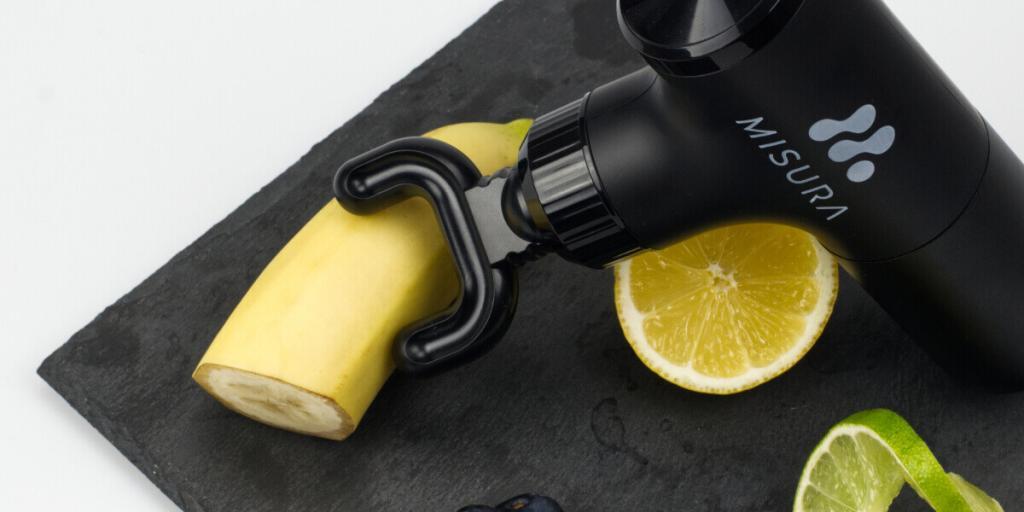 In the case of MISURA massage guns, the MB1 Pro is the largest version. It's the size of a medium-sized drill or hair curler, and it comes in a handy carrying case that you can easily pack into a regular backpack or carry-on bag. The smaller MB3 and MB4 models fit comfortably in a standard handbag.
Ergonomics
Ergonomics is perhaps the most overlooked feature of massage guns today. The reason is obvious. Much of the massage guns on the market are based on a single – several years old – concept resembling the cross or hilt of a two-handed sword (see image below). Holding such a monster in one hand and still in a perpendicular plane can be very uncomfortable. There are now many dealers on the market buying pistols of this concept and sticking their brands on them. It is therefore logical that they do not highlight ergonomics so much in their advertisements. MISURA has come up with a new concept with the MB1 Pro that resembles a drill. Not only is the handle angled, but it also incorporates vibration dampening elements. And that's another reason why the MB1 Pro is popular with professional massage therapists and trainers. Even after several hours of use, your hand doesn't hurt.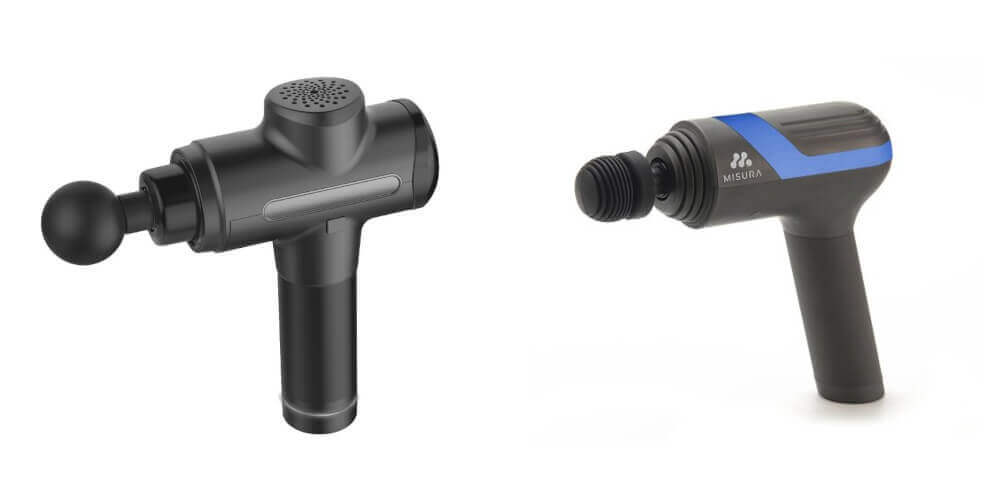 Battery capacity
The battery of the massage guns is solved by a battery that needs to be charged regularly. However, not every battery has enough battery life to provide you with a long-lasting deep massage of several muscle parts. Otherwise, you would have to recharge the massager during the massage, which is not suitable for the muscles. Therefore, it is a good idea to keep an eye on the battery capacity when choosing a product. Recharge the device regularly after the massage to ensure that the battery capacity lasts for a long time.
Resistance
Especially if you use the massage gun frequently or travel with it, you need to pay attention to the material it is made of and the quality of workmanship. Thin plastics crack easily. A poor quality motor will wear out easily. MISURA massage guns are made of aluminium and high quality plastics. You can tell the difference at the first touch.
Advantages over the competition
As the range of massage guns expands, so too must business owners come up with new innovations and improvements over the competition. These include offering a greater number of heads, but also the fact that the massage gun has a function as a power bank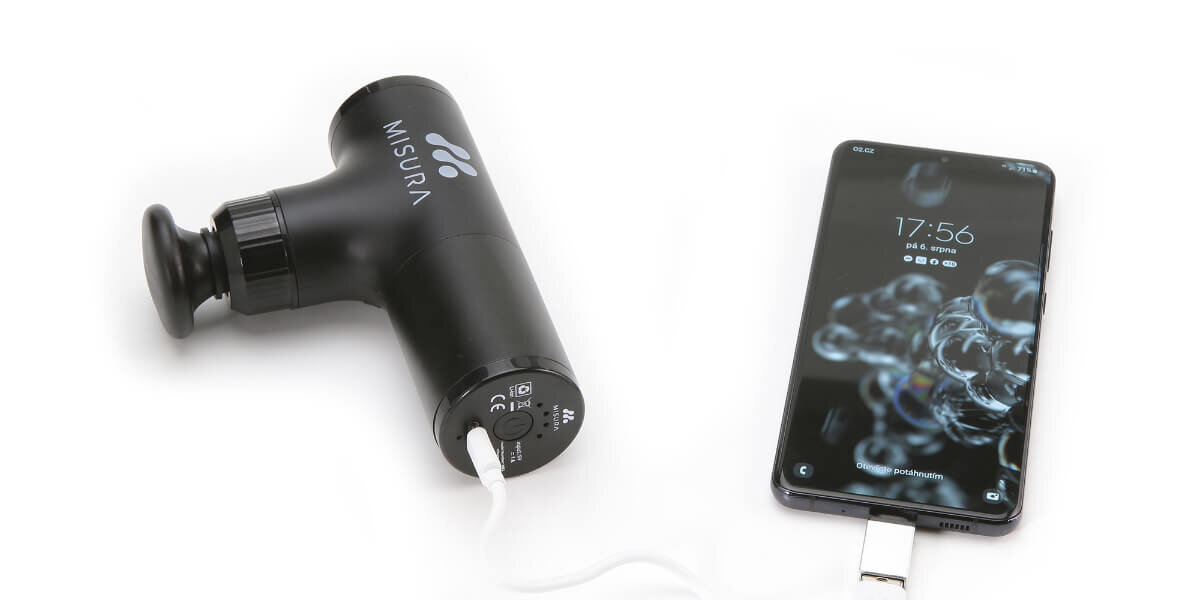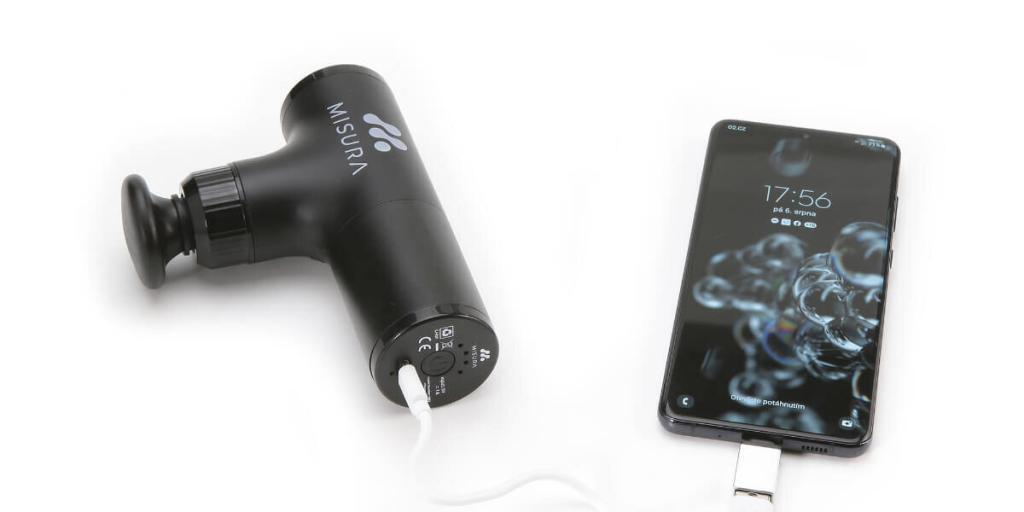 Accessories
The massage gun also comes with accessories. The price includes a case, power bank, charging cable and attachments.
Attachments – several types of attachments for different types of massages and body parts
Rechargeable battery – rechargeable battery to ensure long operation
Case – easy and safe to move from place to place
Price
Nowadays, it is possible to buy massage guns on the market with a value starting from a few hundred crowns. In particular, internet price comparators and various online warehouses of cheap electronics are competing to see who can offer the cheapest massage gun. It is important to note that the products mentioned in no way reach the quality parameters described above.
Quality guns can be divided into two price categories. Guns for home use from 1500 CZK to 3000 CZK. And professional guns that cost 3000 CZK and more. In the case of the MISURA brand in the first category you can find MB3 and MB4 pistols. In the second category you will find the MB1 Pro version. All MISURA pistols are high quality, powerful and durable machines with all functions, types of attachments, powerbank and accessories. They are also quiet and lightweight.
Why is a massage gun useful?
Although the name of the gun, may make people's hair stand on end, it is a very useful tool that has proven itself to be very useful for high-performance athletes. Recently, it has also come to the attention of people who are not involved in professional sports. But they are bothered by pain with their back or other parts of their body that limits them in their daily life. What is a massage gun useful for?
it speeds up blood flow
relieves muscle tension
speeds up rehabilitation after injury and recovery after sports performance
helps healing of scars
increases lymph flow
helps reduce fatigue
Types of MISURA massage guns and their comparison
MISURA offers three types of massage guns, MB1Pro, MB3 and MB4, which have a different range of capabilities and features. The first type includes a pack of six heads that can be used on different parts of the body. The smaller MB3 and MB4 types include four heads. It's simple. Just swap the attachments and you can give a massage to the tibia, for example. In terms of volume, the MISURA guns emit only 35 decibels. They are therefore very quiet, so they won't disturb you while you relax. Moreover, they reach muscle tissues up to 12 mm deep, which massages the body part very well. You can read more about them below and choose the best one for you.
The MB4 Massage Gun is a lightweight massage device that uses pulsating vibrations to contribute to overall body performance. It hits muscle groups up to a depth of 6 mm with its pressure pulses. The massage achieves relaxed muscles and eliminates pain.
It is a small device that has a power of up to 2800 revolutions per minute. The package also includes four heads that can be used on different parts of the body. It can also be considered as a great advantage that it serves as a power bank, so while you are exercising, you can charge your phone through the massage gun.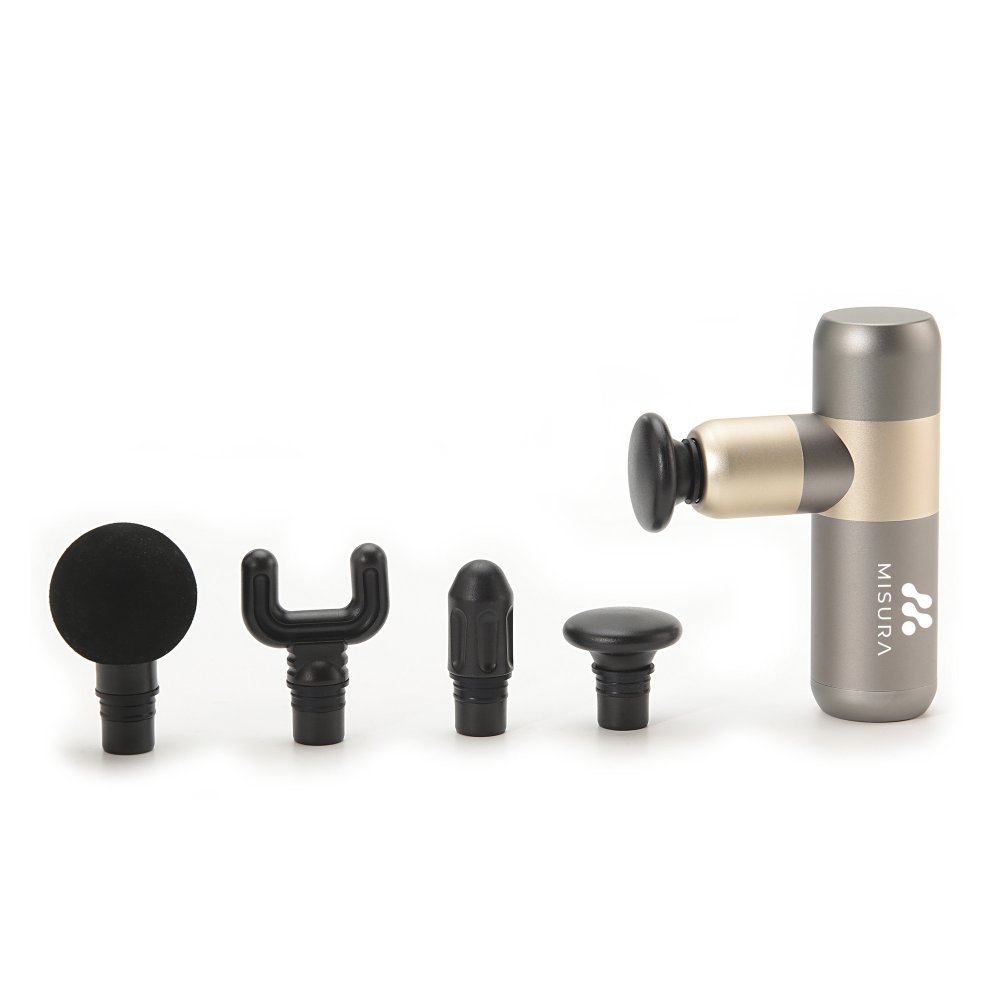 Massage gun MB4
Massage gun MB4, 14.5 x 9 x 4.5 cm, Operating time 3-4 hours, Li-ion battery 2000mAh, Package includes Massage device, 4x massage head, Instructions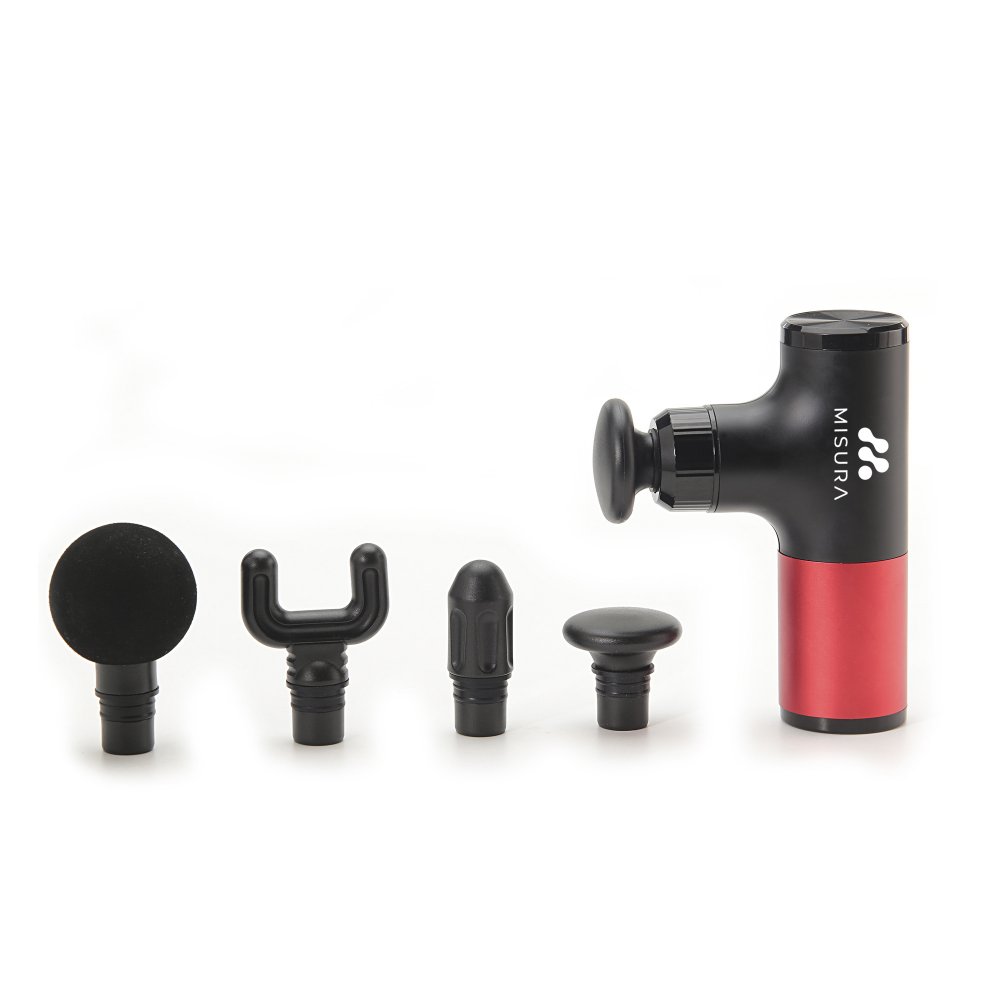 MB3 massage gun
Massage gun MB3, 14.5 x 9 x 4.5 cm, Operating time 3-4 hours, Li-ion battery 2000mAh, Package includes Massage device, 4x massage head, Instructions
The MB3 Massage Gun is a smaller massager that allows for easy handling with its ergonomic non-slip handle. It is lightweight but also quiet when in use, reaching only 35 decibels.
It has the advantage of a variable four-stage frequency and an intelligent vibration pressure sensing mode that adapts to the user's needs. Using the amplitudes, you can indulge in a massage to suit your taste. It includes four replacement heads that can be used on different parts of the body. This massage gun also works as a power bank, so you can charge your phone while you exercise. Use the massage to achieve relaxed muscles and improved blood circulation.
The MISURA MB1 Pro massage gun is an innovative, high-quality massage device that reaches deep into the muscle tissue with its pressure pulses. This results in better blood circulation, the breakdown of lactic acid, as well as accelerated regeneration. Another advantage is its silent mode, which reaches a maximum of 35 decibels.
Together with the gun, six massage heads are included in the package, which can be used on different parts of the body. It also offers the option of five speed modes, allowing you to indulge in a massage that suits your needs. The massage gun is equipped with two modes, namely manual and SMART mode, which activates the smart pressure measurement technology. The intensity of the massage is then adapted to your requirements.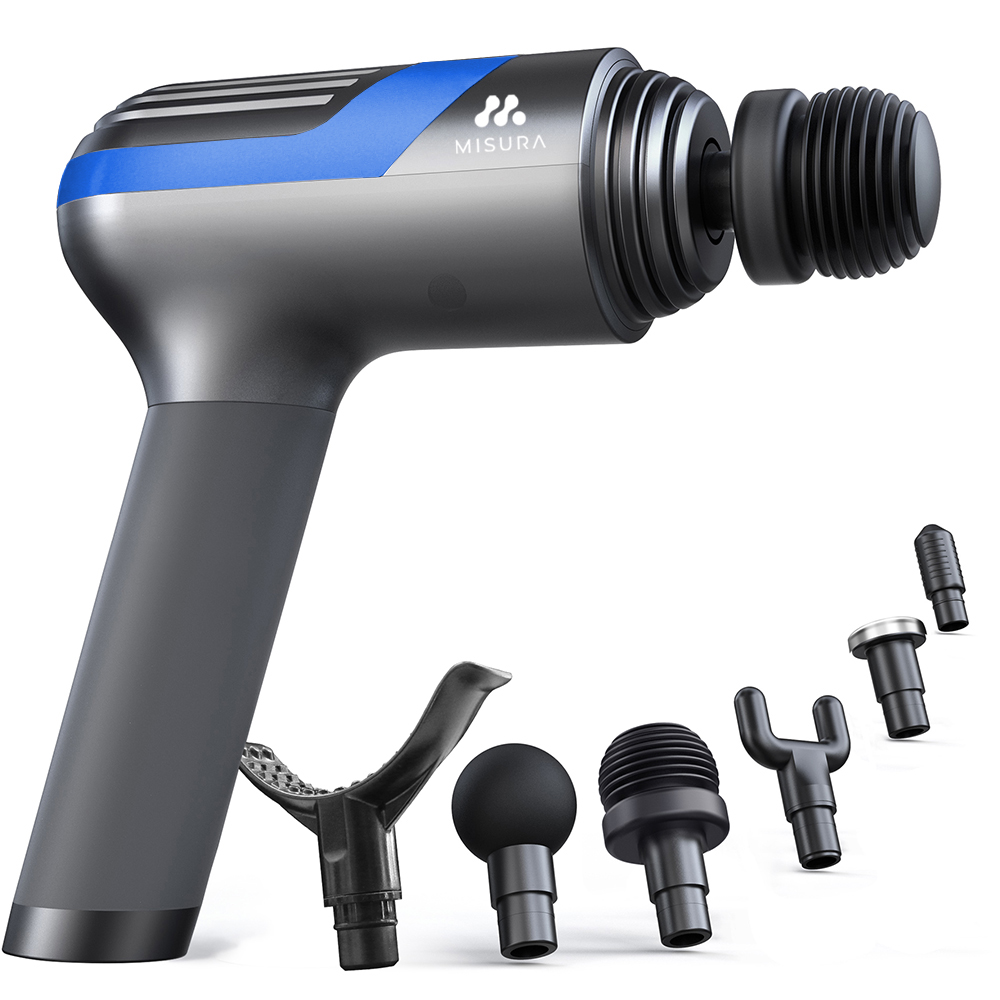 MB1Pro massage gun
Massage gun MB1Pro, 25 x 7.5 x 22 cm, Operating time 8 hours, Battery Li-ion 2500mA, Package includes Massage device, 6x massage head, Power adapter,…
Muscle massage – what it's good for and how it works
Muscle massage is a part of life for athletes and people who are not involved in sports. Before any massage it is important to relax and be sufficiently warmed up. During the massage, the muscles are relaxed, the pain is removed, and the blood circulation is also stimulated. Thanks to regular massage, fatiguing substances, which we consider to be lactic acid, carbon dioxide or creatinine, are then removed. The tendons and muscles are then better blooded and do not develop painful stiffness, which causes pain precisely because of the lack of blood circulation.
The muscles are then not as efficient, and massage is the solution that will cope with both flaccid and stiff muscles. No part of the body should be forgotten and therefore every muscle in the body should be given a massage. MISURA massage guns contain up to six heads that can be used on a given part of the body. In the package we find a forked, spiral, flat, crescent and air cushion head. All heads are ergonomically shaped for the body part in question.
Massage gun as the most suitable massage device?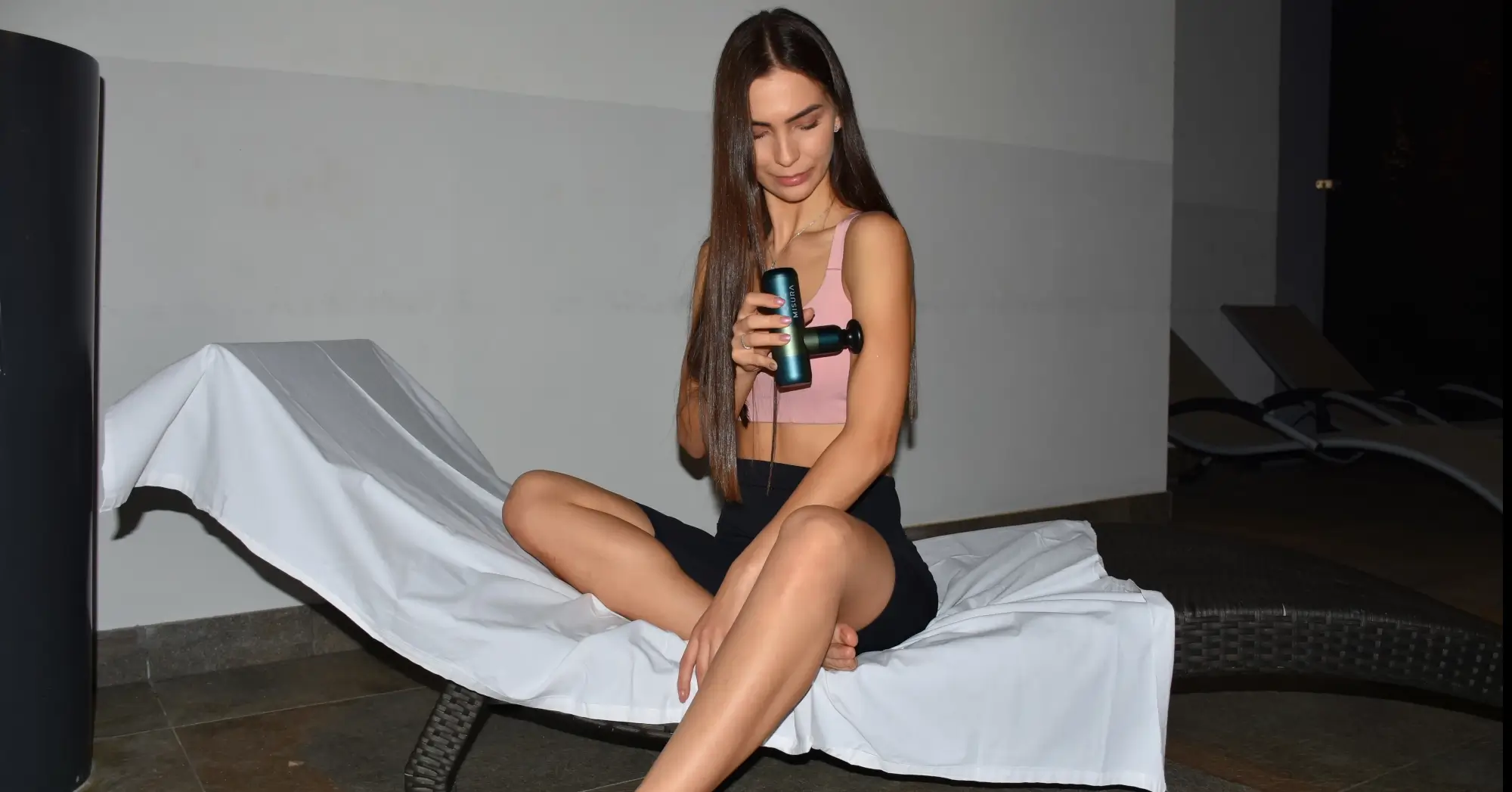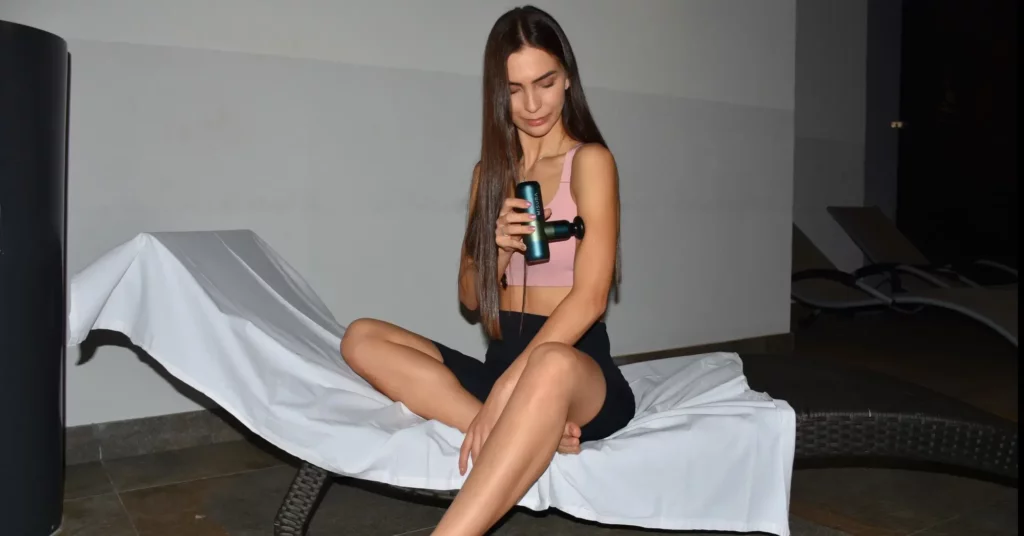 Due to its shape, the massage gun seems to be the most suitable massage device. These usually offer multiple attachments for massage. Common sense may logically tell us that it is best to choose the one whose package contains more attachments. Since each attachment is designed for a different part of the body, it is important to keep in mind that massage is not about quantity but quality. The device must work in such a way as to help the person concerned with his pain. Therefore, it is also necessary to look at how deeply the massage gun can reach the muscles when choosing one.
Why use a massage gun after exercise?
Every exercise requires subsequent recovery. Rest, rest and muscle massage are recommended. The massage stimulates the muscles and relieves tension in them. In addition, it allows you to enjoy a pleasant relaxation after a busy day. That is why there are massage devices that help you with regeneration. With the MISURA massager, we find a spherical head that, when used, reaches muscle groups up to 12 mm deep. This quickly dissolves the lactic acid that is formed by physical exertion and thus relieves tension in the muscles. It is therefore suitable for bulk muscle groups such as thighs, calves, waist, hips and arms.