Many people today work on a laptop every day. The undeniable advantage of laptops is their high mobility, which is why they are popular not only for work, but also for study and leisure. The fact that the screen of a laptop is lower than that of a computer means that the neck and back suffer during prolonged use. If you don't have the option of adjustable desk height, or don't want to sit too low in a chair at your desk, you need to look down on your laptop.
This is certainly not good for your back, shoulders or your neck in the long run of regular work. Gradually, the muscles in this area become stiff, which also affects the posture of the spine and can cause headaches. Therefore, it is advisable to prevent these problems by ergonomics of the space, including a proper laptop stand. You will then be able to work more comfortably for much longer.
Ergonomic laptop stands
With a laptop stand you can create a healthy working environment for your body very quickly and easily. And you don't even have to invest any huge sums. Laptop stands are affordable. Moreover, ergonomic laptop stands don't have to be used only at home or at work, but can be used anywhere and anytime. Ideally, you should choose a laptop stand that folds up easily and you can pack it in your laptop bag or backpack and carry it with you everywhere all the time. Working from anywhere is almost commonplace today, just as homeoffice has become.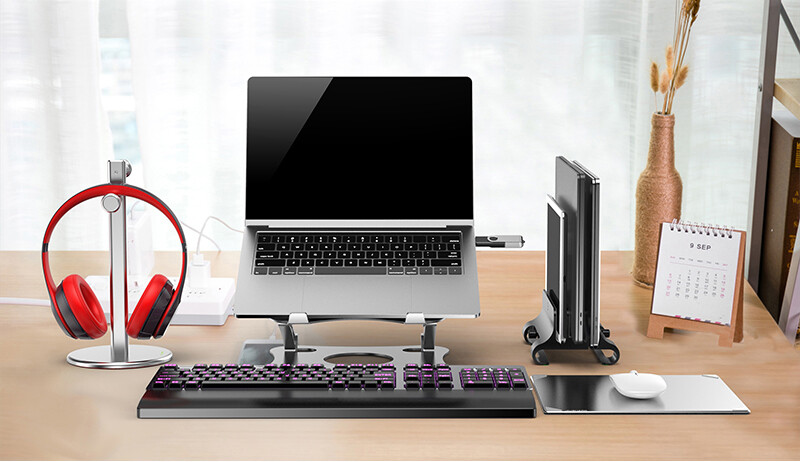 MISURA's range of stands
Laptop stands are versatile, so it mainly depends on how much you plan to carry the chosen stand, whether you use an external keyboard with it, or if you also use the laptop standing up, for example for lectures. Choose accordingly, whether you need a large and heavier stand for one stable place at home, at work or at the cottage, or if you need a small, compact, lightweight and portable laptop stand that you can take with you anywhere and on the go.
Suitable for sitting and connecting an external keyboard ME08
If you just need to relieve your hands, and want a stand without carrying, then choose from the home stands
Benefits of the laptop stand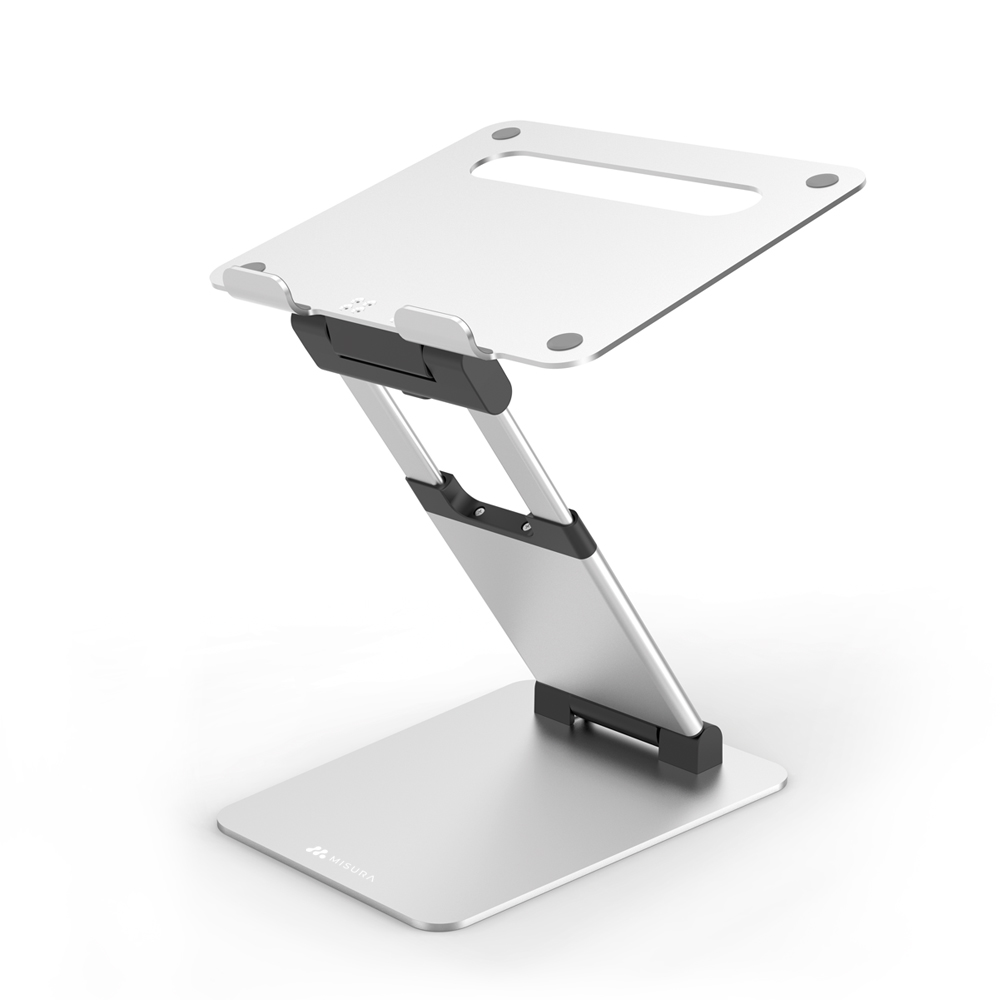 Ergonomic laptop stand ME11
Ergonomic laptop stand ME11, size: 285 x 290 x 45-360 mm, adjustable height: 45-360 mm, color: silver, suitable for devices 17″ and smaller
The laptop stand raises your laptop to eye level, ensuring you sit upright at your computer. You'll relax your shoulders and cervical spine. It will also be convenient for the laptop itself that it is not placed directly on the stand and passive cooling occurs. You will certainly appreciate this when working on the computer for longer periods of time and your work will go better. It will also extend its lifetime.
More than 20 stands
Laptop stands are a handy tool for outfitting your home office to homeoffice. MISURA offers around 20 different models and types of laptop stands in a range of MISURA ERGO. You can choose laptop stands for homeworking that are neither adjustable nor very stackable. However, they are solid and visually attractive. They are useful if you know your working environment (desk height, etc.) and the stand does not need to be constantly adjusted to the current conditions. For the home office, the ME11, ME16, ME09, ME06, ME10, ME14 or ME08 laptop stands are suitable.
Furthermore, laptop stands are portable and stackable, which you can take with you anywhere. They are also useful as "lecterns" if you are giving a lecture, need to talk to people and at the same time see the laptop, or work with it without having to bend down all the time. With a laptop stand, your laptop monitor will be at eye level, and you can easily attach a keyboard to keep your hands more comfortable and not suffer in the long run. Customize your work according to the size of the space in your home.
Material, design, storage and compatibility
When choosing the right laptop holder, think not only about its appearance – it goes without saying that you'll want it to look good and fit in with your décor – but also consider its material, storage and function. It's important that the stand you choose is compatible with your laptop. So make sure the stand fits the size of your laptop beforehand. The size of the diagonal plays a major role in this case
You should also consider whether you will only use the stand at home or at work, or whether you want to travel with it. If you often work in cafes or shared offices, you will appreciate it if the weight of the stand is not too heavy and the holder can be folded easily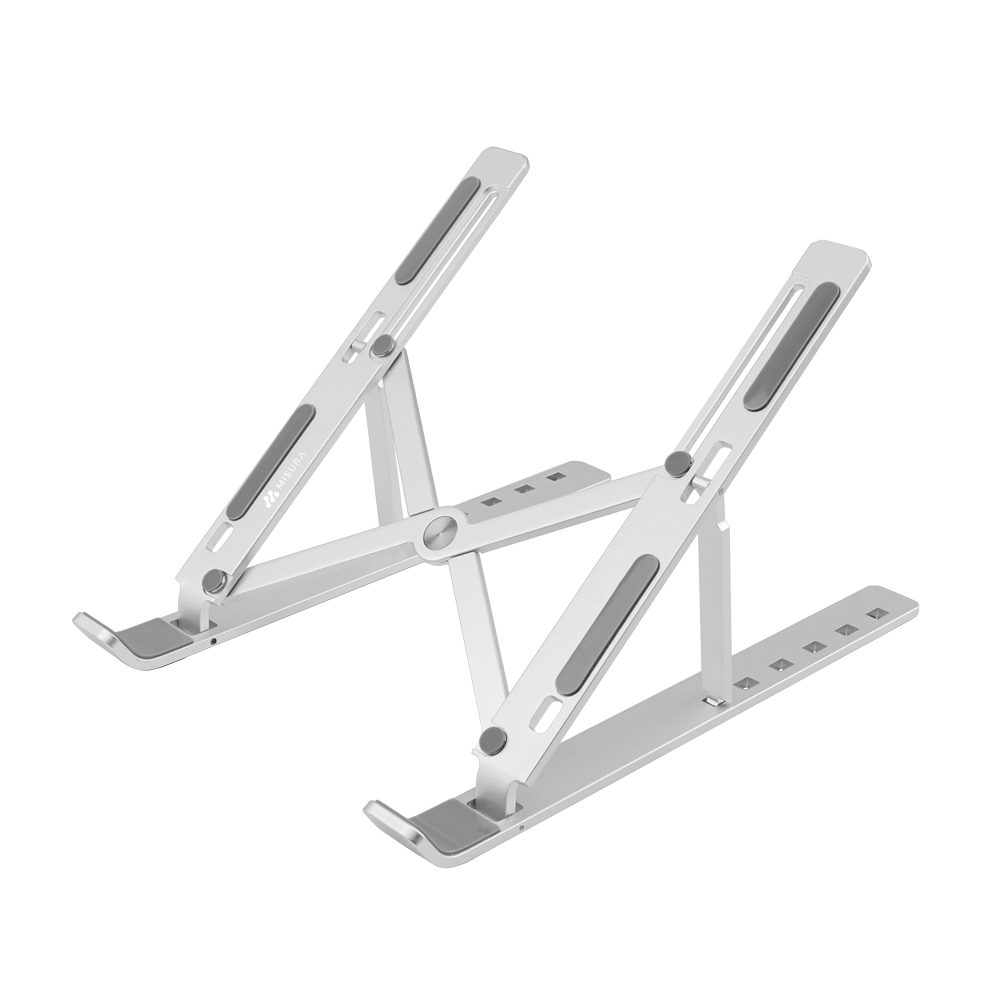 Ergonomic laptop stand ME04
Ergonomic laptop stand ME04, Size: 24 x 4.5-16 x 5-14 cm, color: silver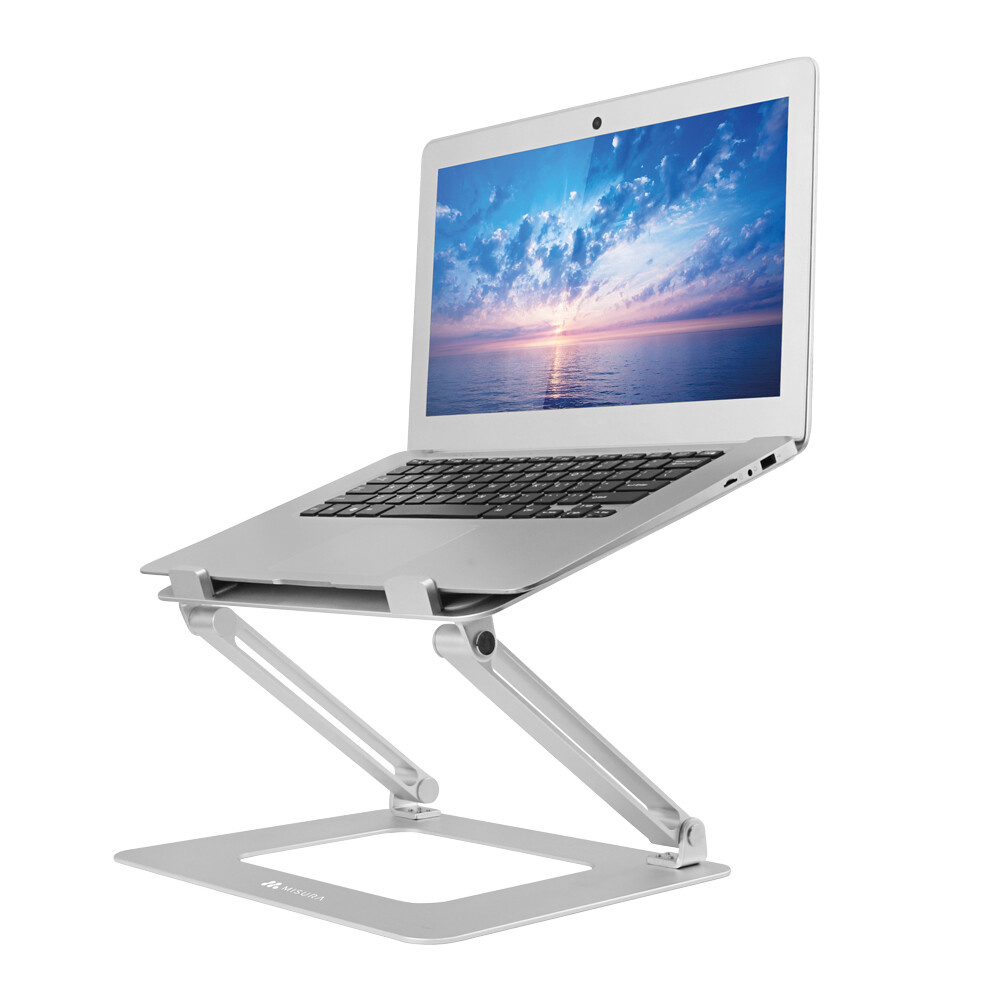 Last but not least, ask yourself what you would like the stand to do. Naturally, you expect it to hold your computer at least at eye level. However, it will be great if the ergonomic stand is height-adjustable. You'll especially appreciate this when working in different locations. Another gadget is the swivel option, where you can simply share your work with your colleagues or clients. You turn the laptop on the stand towards them, and they won't have to stand behind your back
That being said, the stand can also help against laptop overheating. When choosing, also look to see if there are holes on the stand for passive cooling. A non-slip surface will also be of no lesser benefit, with which you can be sure that your laptop won't fall off the stand
The pandemic has left many of us to work from home, and while the conditions may not be ideal for this in your apartment/house, it's a good idea to create a working environment where you're not only not disturbed, but more importantly, you're not ruining your health. Think about sitting at your desk and choose resources that will make your work and your life easier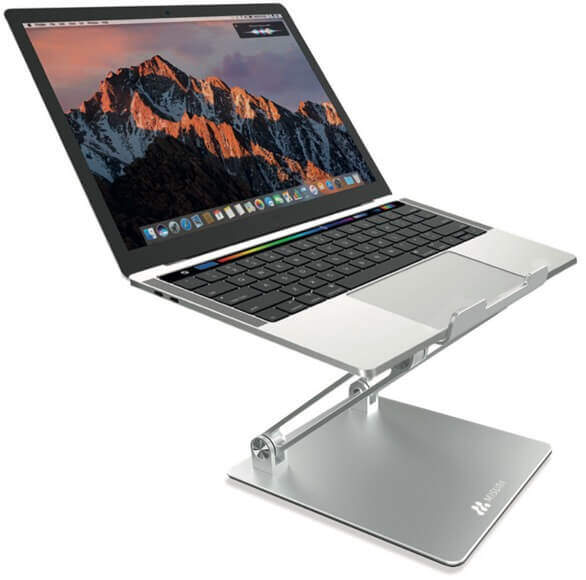 MISURA stands for a healthy working environment
Practical and height-adjustable MISURA stands of various types can raise your laptop to your eye level so that you can sit upright while working, saving your neck and back muscles. This also creates space for an external keyboard and mouse on the desk, which is also a good prevention for elbow and hand and wrist health problems, as the classic laptop keyboard is not very suitable for long-term work. It allows you to create a perfectly equipped office literally anywhere
Stands for better laptop ventilation
Raised stands with holes in the middle improve airflow , ventilation and cooling so that the laptop does not overheat even when working for long periods of time. Laptops are shipped and used in their entirety and therefore have overheating issues that the stands help solve
A stand is ideal for cooling a laptop if:
the laptop is very hot, works slowly, overheats or freezes;
the temperature of the device has been exceeded, for example in the sun, in summer, in an area with elevated temperature;
if you have the laptop on your lap or on the bed for a long time
you are working with demanding programs or playing demanding games and the computer has excessive power
an AMD processor is installed: such laptops tend to heat up quickly.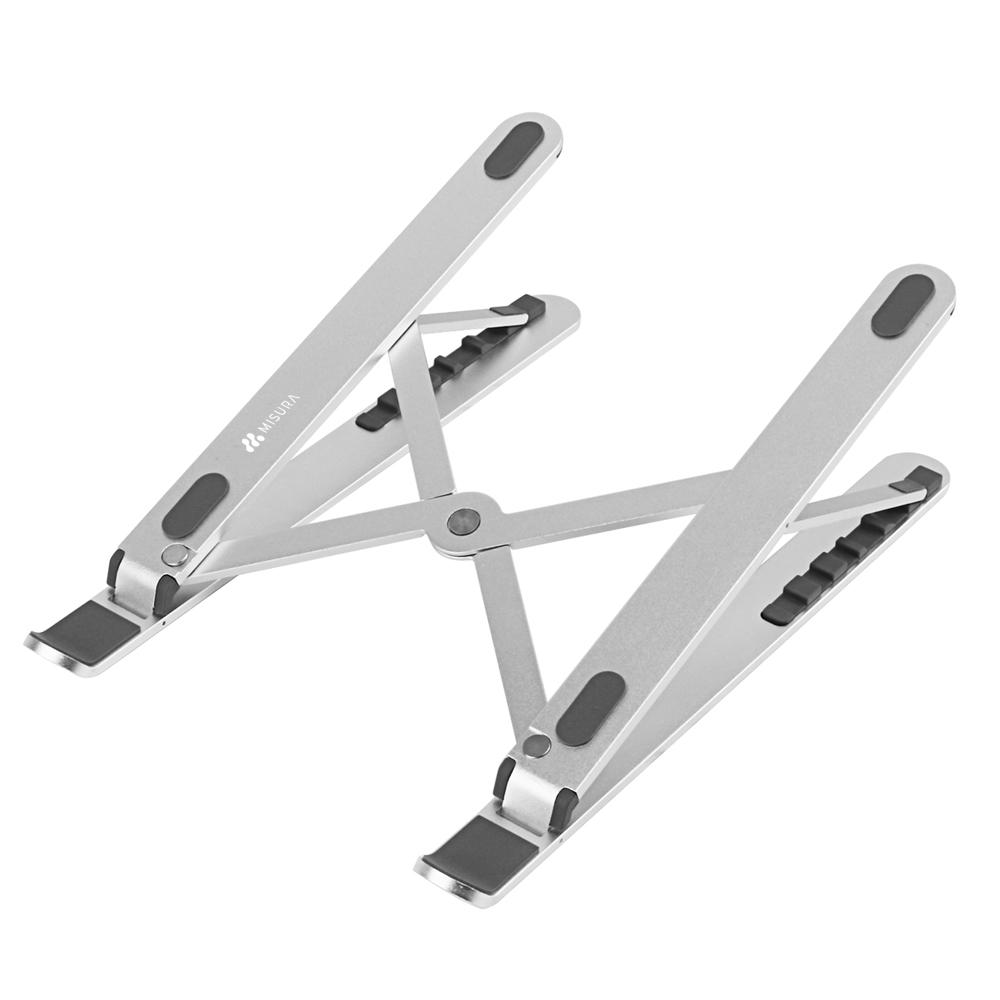 Ergonomic laptop stand ME12
Universal for all types of laptops or tablets. Made of high quality material, adjustable height 87-170 mm. Non-slip surface, stable.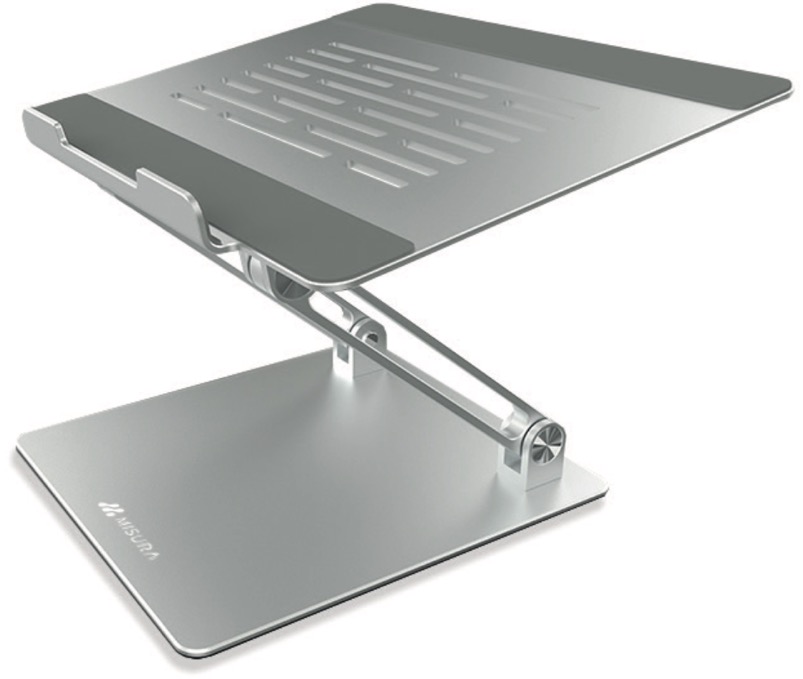 Ergonomic laptop stand ME09
Ergonomic laptop stand ME09, size: 280 x 235 x 30-200 mm, thickness 5 mm, colour: silver, suitable for devices 17″ and smaller 
Stands that adapt to
You can adjust the height of the stand at any time to suit you. You can adjust the laptop to be at eye level, whatever position you're in. Plus, you can rotate the stand up to 360° to easily show your office colleagues what you're working on.
Quality is a given for MISURA stands
MISURA Ergo does not offer the usual plastic solution commonly available on most e-shops. MISURA laptop stands are professional laptop stands made of high quality aluminium alloy, constructed in such a way that their weight is adapted to travel conditions. Simply a professional solution of the highest quality.
Sturdy construction even with anti-slip treatment
Some stands are made of high quality aluminium construction and have a high load capacity. They can last for many years and will be a good help in your regular work. They are also adapted to laptops so that they do not move. Some stands also have anti-slip features and safety hooks so there is no risk of it slipping or scratching.
Laptop stands can also be made with a monitor holder and have an area to accommodate a docking station. They usually have the option of changing the tilt of the stand for better hand positioning in different conditions.