Laptops have become an indispensable tool for work and play. But prolonged use can cause strain on the neck, shoulders and back. The solution is a laptop stand that can help alleviate this strain by raising the screen to eye level, promoting proper body ergonomics and reducing discomfort. With so many different types and models of laptop stands available on the market, it can be difficult to choose the right one for your needs. In this article, we'll look at some of the key factors to consider when choosing a laptop stand and introduce you to MISURA, a brand that prides itself on ergonomics and the overall quality and design of its laptop stands.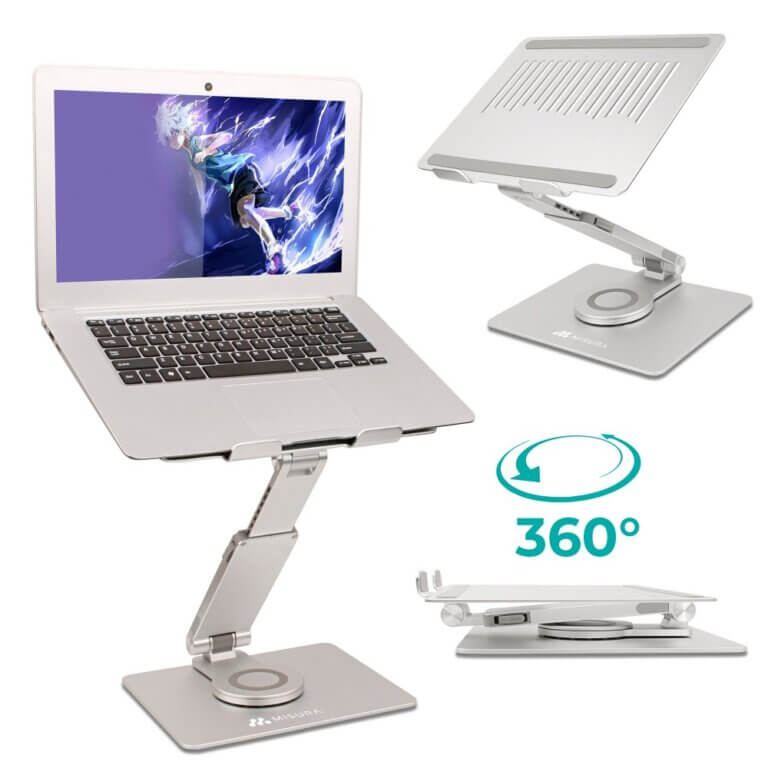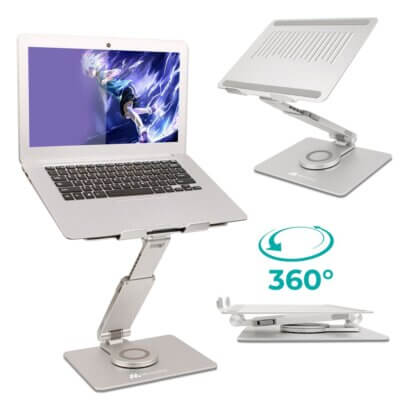 Height and angle adjustment
One of the most important factors to consider when choosing a laptop stand is the ability to adjust the height and angle of the stand to your satisfaction. Ideally, the stand should be adjustable to your eye level, allowing you to work comfortably without straining your neck or shoulders. An adjustable angle is also essential for finding the ideal viewing angle that suits your preferences. Some laptop stands come with multiple height and angle adjustments to allow for greater customization and comfort. Therefore, the more adjustment options the stand has available, the more sophisticated the product you are buying
Material and durability
Laptop stands are made from a variety of materials such as aluminium, wood, plastic and more. The material used determines the durability, weight, style and compatibility of the stand. A lightweight stand may be more convenient for transportation, but a more durable stand can provide more stability and long-term use. Some stands are also designed to support specific laptop models, so be sure to choose one that can support the weight of your laptop. From experience, we advise avoiding thin plastic stands, the weight of even smaller laptops causes them to not hold firmly in place and the slightest vibration causes the screen to float. Only use the wooden version if you do not plan to travel with the stand and it fits aesthetically with your desktop. So we find aluminium stands work best, offering stability and durability as well as compatibility and design.
Precision
If you plan to use your laptop stand in different locations, it's essential to consider the portability of the stand. Some laptop stands are lightweight and foldable, making them easy to store and carry. Others are bulkier and more suited to a permanent workstation. Portable laptop stands are an excellent choice for those who work remotely or move frequently from one location to another. In this case, we recommend aluminium stands. They are lightweight, portable and durable at the same time.
Compatibility
Before buying a laptop stand, it is important to make sure that the stand is compatible with the size and weight of your laptop. Some stands are designed for specific laptop models, while others are more flexible and can accommodate different sized devices. It is essential to check the specifications of the stand and make sure it will support the weight of your laptop without tipping over or causing instability.
Design
Laptop stands come in a variety of designs, from minimalist to more ornate styles. Some laptop stands are designed to blend in with your workspace, while others are meant to stand out and be the center of attention. It's important to choose a design that complements your workspace and personal style. We recommend choosing one with a design that fits different spaces, especially if you travel more.
MISURA brings quality, design and functionality
The MISURA brand is characterised first and foremost by the long-lasting quality of its products, with equal attention to functionality and design. This is no different with the range of laptop stands. The range includes several models with different design options and in different price categories. Let's introduce some of them, taking into account the potential target group.
Ergonomic laptop stand ME01
ME01 is a great choice if you want a simple, elegant and durable laptop or tablet stand. The stand is suitable for devices up to 15.6″ and can even be used to insert a book. Either way, your desk will be protected against scratches thanks to the anti-slip stops, which all MISURA stands have. This stand can be easily folded and transported, and its hollow construction protects your equipment against overheating. The stand is recommended for teachers, managers, producers and other professions that require frequent carrying of laptops from room to room.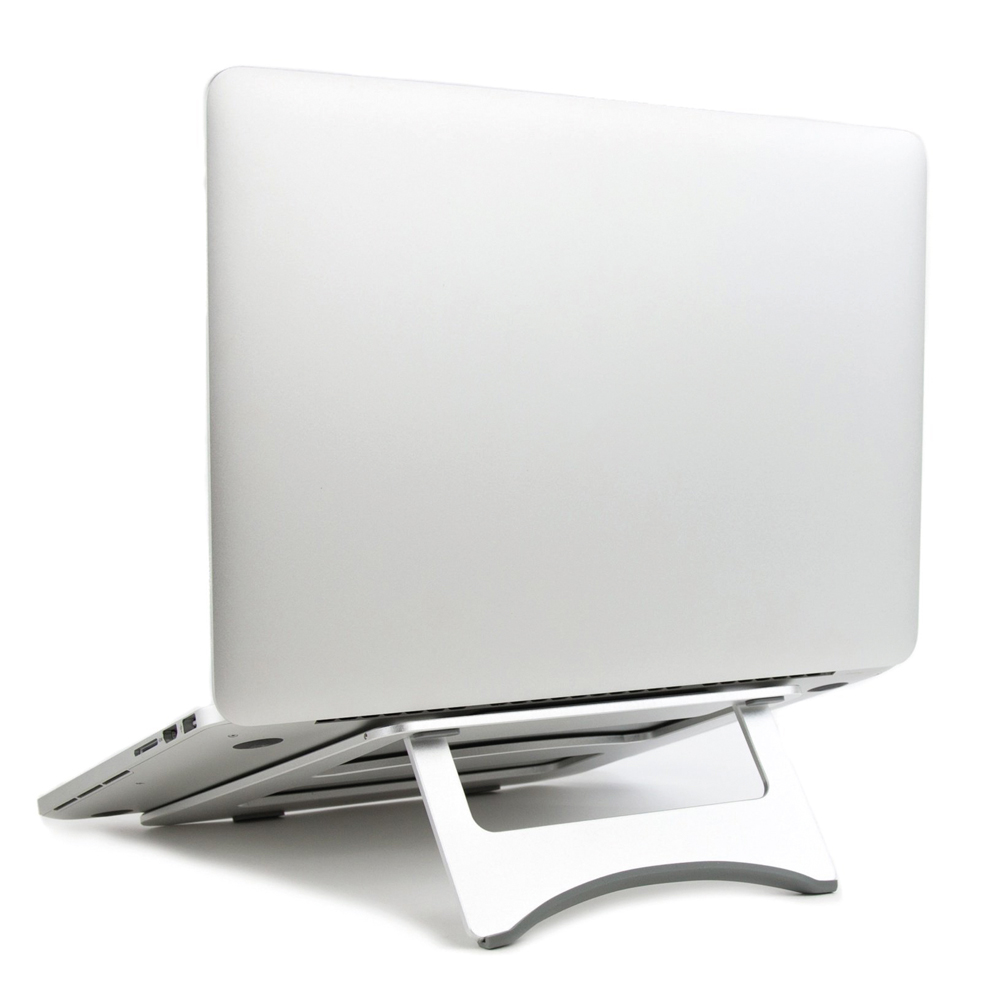 Ergonomic laptop stand ME01
Ergonomic laptop stand ME01, Size: 227 x 228 x 65 mm, for devices with a size of 15.6 "and smaller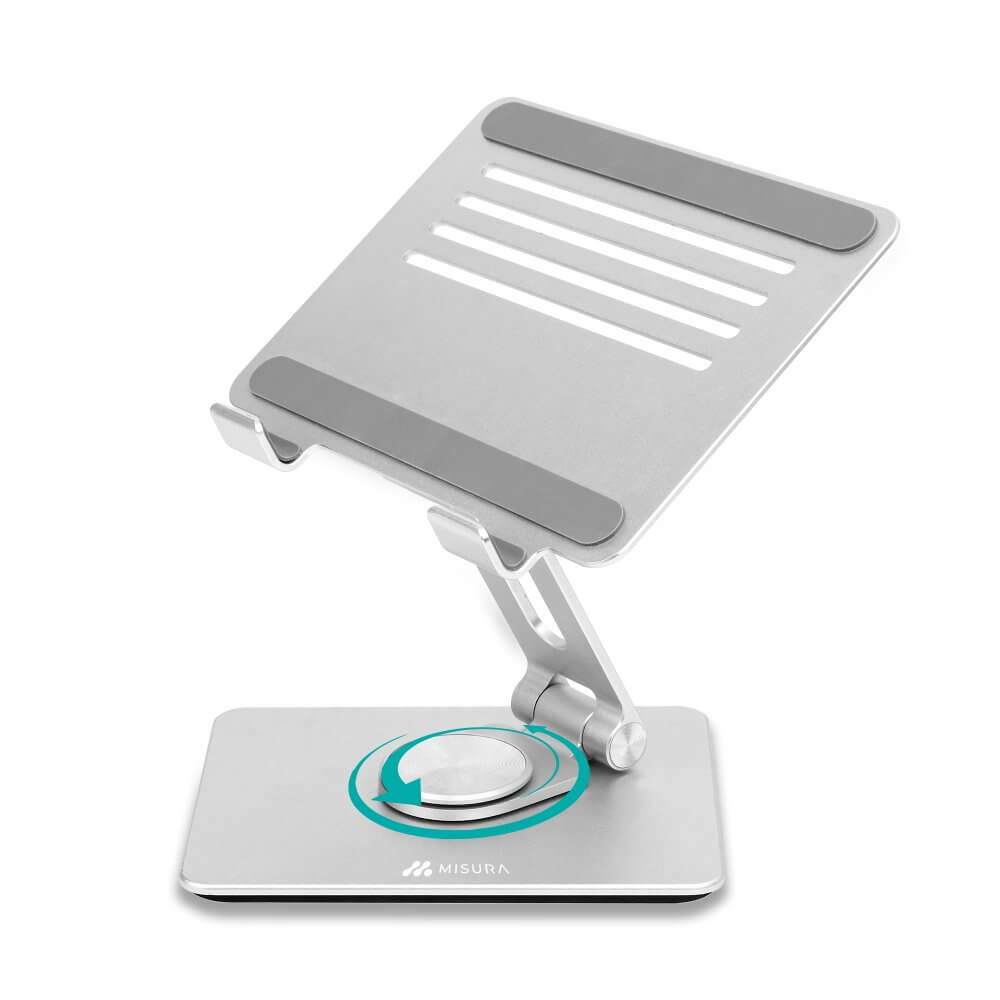 MISURA laptop stand ME21-SILVER
The MISURA ME21-SILVER ergonomic stand for smaller laptops, tablets and mobile phones is made of aluminum and silicone. For the right ergonomics of the working…
ME21 Laptop Stand
The advantage of the ME21 stand is that it can handle smaller laptops as well as tablets and mobile phones. Thanks to the 360-degree articulation, the user can swivel the stand in seconds to face his colleagues on the other side of the desk, making it an ideal ergonomic addition to the office. Like all MISURA stands, the ME21 is made with an emphasis on functionality and durability as well as design. The silver-coloured aluminium alloy fits perfectly into most types of office space.
Ergonomic laptop stand ME10
The ME10 stands out with its adjustable height from 160-320 mm. Combined with the ability to adjust the tilt up to 30 degrees, it is ideal for working with a laptop, tablet or for reading a book. The stand can support a weight of up to 20 kg and accommodates any device up to 17.3″. The ME10 is also very portable, making it the ideal tool for those whose work requires them to travel frequently. Like all MISURA stands, the ME10 is equipped with a non-slip pad to prevent scratching your desk and its design allows for better airflow around your equipment, thus cooling it more efficiently.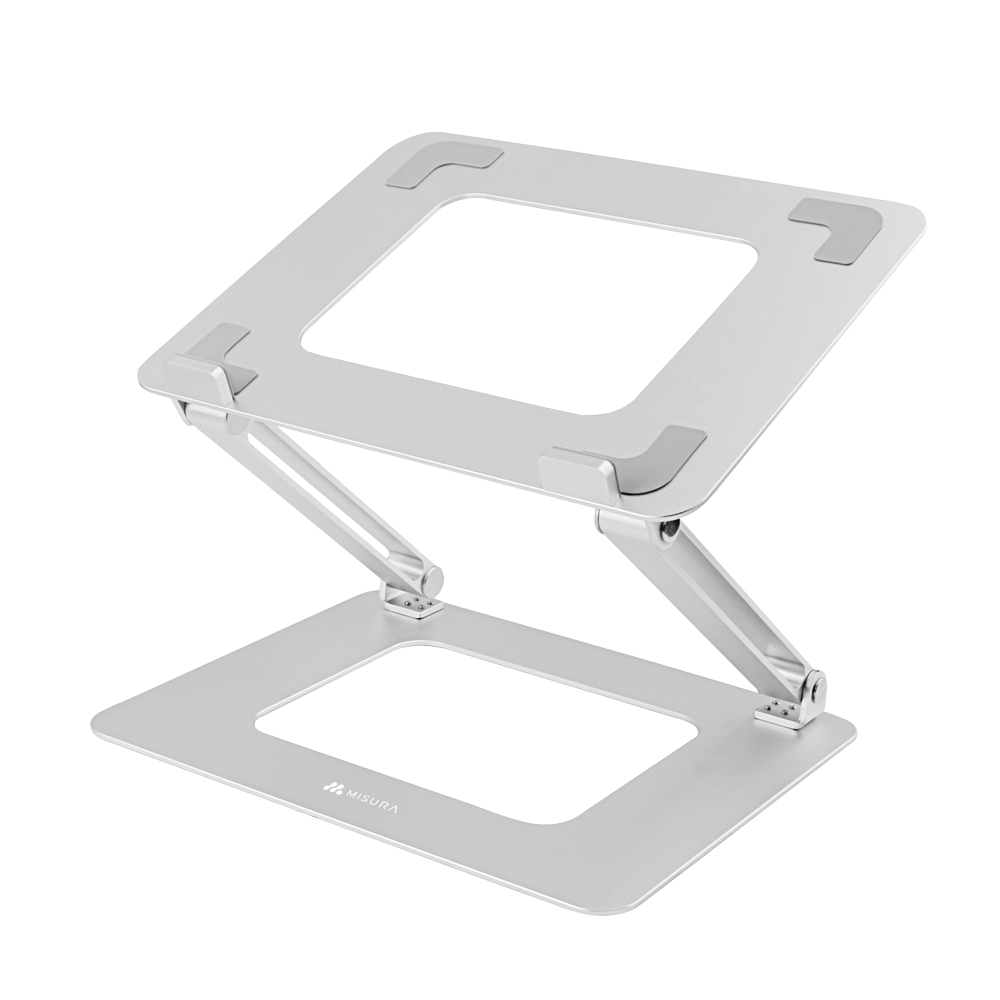 Ergonomic laptop stand ME10
Ergonomic laptop stand ME10, size: 237 x 299 x 45-245 mm, adjustable height: 45-245 mm, thickness 5 mm, colour: silver, suitable for devices 17.3″ and…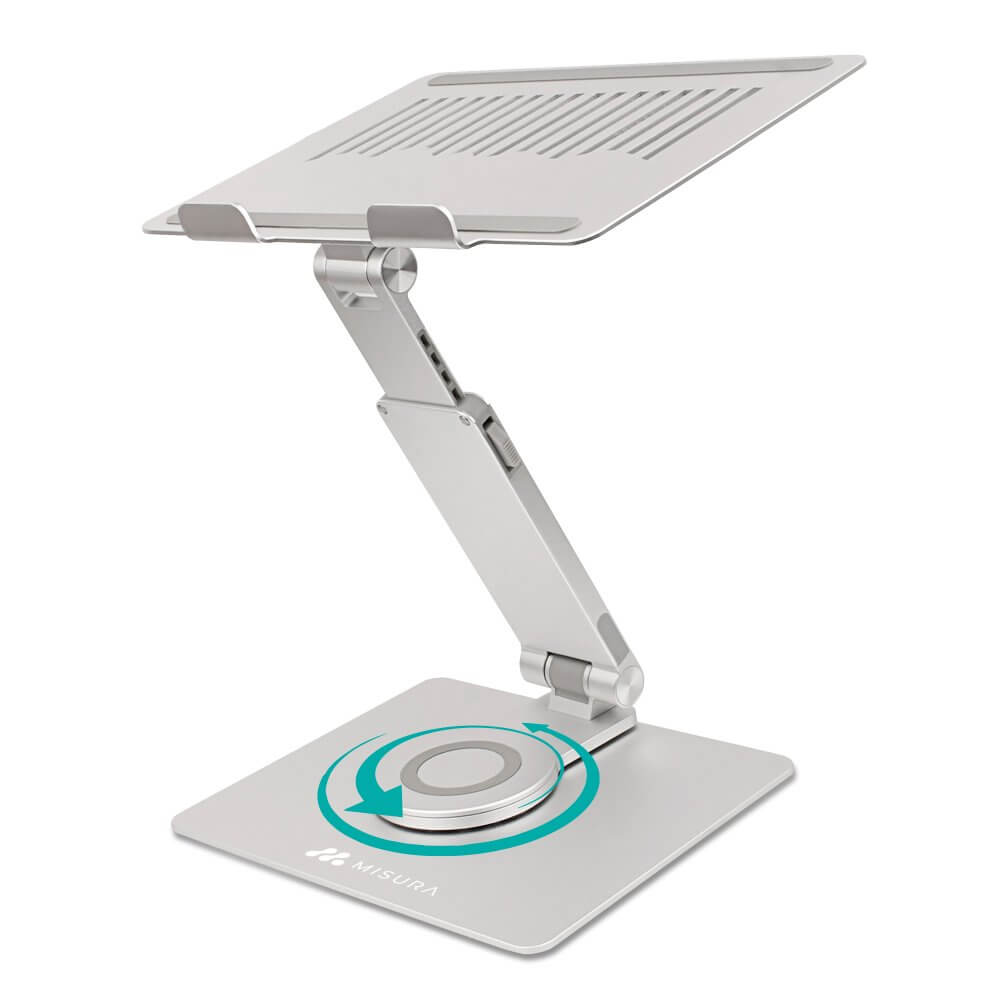 MISURA laptop stand ME20-SILVER
The ergonomic MISURA ME20-SILVER laptop stand for laptops with a diagonal of 10-17″ is made of aluminium construction and silicone. For the right ergonomics of…
ME20 Laptop Stand
The ME20 laptop stand combines the best features for a universally quality product. The stand is both 360-degree rotatable and height adjustable from 36 to 320 mm. This makes it the perfect tool for anyone with the need to work sitting or standing, for example lecturers. The ME20 can accommodate 10-17″ devices weighing up to 10kg, achieved with a durable and designer aluminium alloy. Last but not least, this sophisticated stand is surprisingly portable, making it convenient to pack in your backpack with your laptop on the go.