The ergonomic ME20 laptop stand has a 360° swivel joint. You can also use the stand for those times when you need to turn the monitor towards colleagues during work, lectures and other activities.
Easy to fold and unfold
The ME20 stand is easy to fold, which is especially practical if you travel frequently. It has an extendable bar that makes it easy to adjust the height, making it suitable for standing work (presentations, etc.)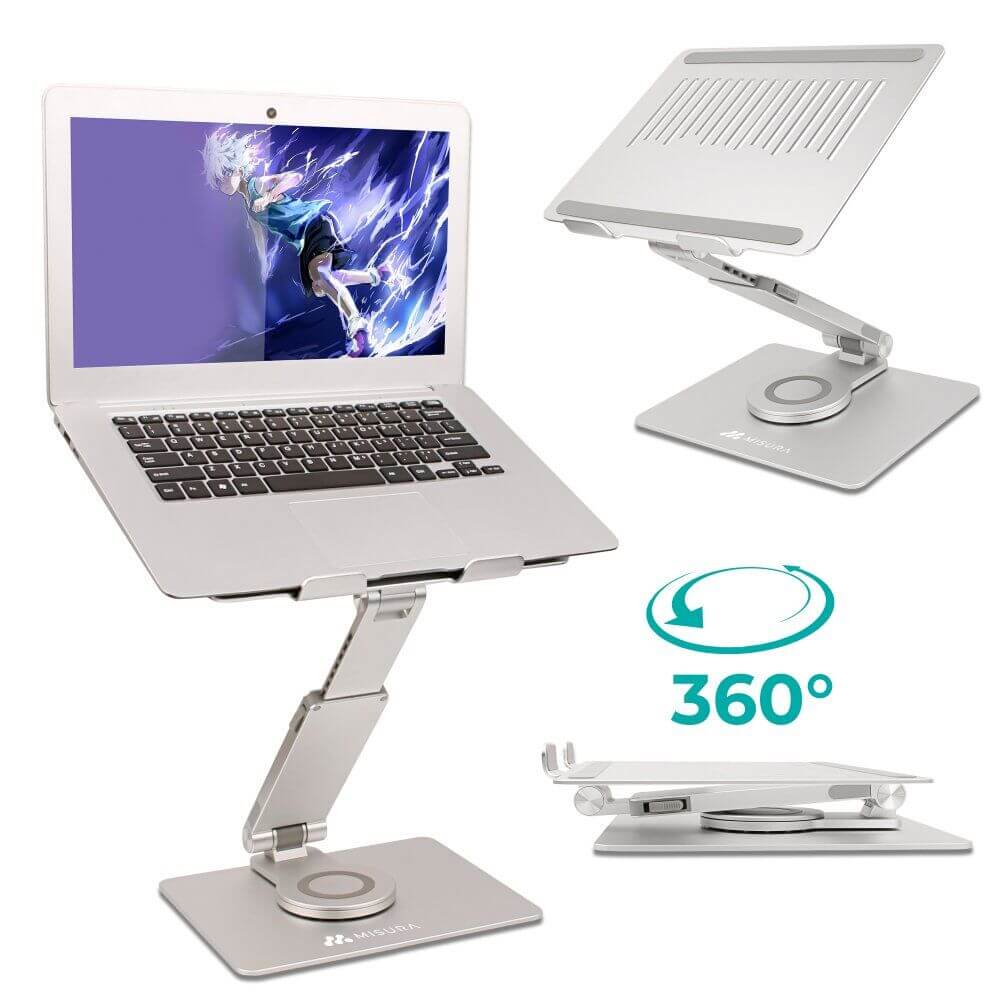 This type of stand, with its adjustable height and virtually any angle setting, can be put to good use in any space. For smaller tables, you can place it against the corner of the table, for example, and rotate your screen exactly so that you are not badly rotated or tilted too far forward or backward. This allows you to maintain proper seating ergonomics and avoid back and cervical spine pain.
The stand has been developed to ensure that it does not collapse even under a heavy weight of 10 kg. Once the stand is installed on the desk, you set the monitor to one of seven height adjustment levels, which range from 35 – 320 mm. With such a wide range , you can work with it both sitting and standing.
Non-slip surface
Non-slip stops on the handles where the laptop is placed and on the bottom base protect your device and desk from scratches. Cooling vents underneath the backing plate speeds up heat dissipation due to overheating.
Smaller version of the stand
The ME21 is a smaller version of the ME20, designed for smaller devices such as laptops with smaller diagonal, tablets, etc. It is made of the same material. Like the ME20, it has a swivel joint with infinitely adjustable inclination. It differs from the larger version in that it is not extendable. You can use it for work and watching movies, even while travelling.
Stand quality and stability
MISURA stands are made of aircraft aluminium, which has extreme durability, strength and quality. This material is also used to make railings and aluminium windows. The aluminium alloy is more beautiful and much stronger than conventional aluminium. The sturdy, strong yet elegant construction ensures safety from dropping your electronic device. The ME20 can hold up to 10 kg, so it is suitable for all types of laptops with a diagonal of 10-17″ without weight or size restrictions.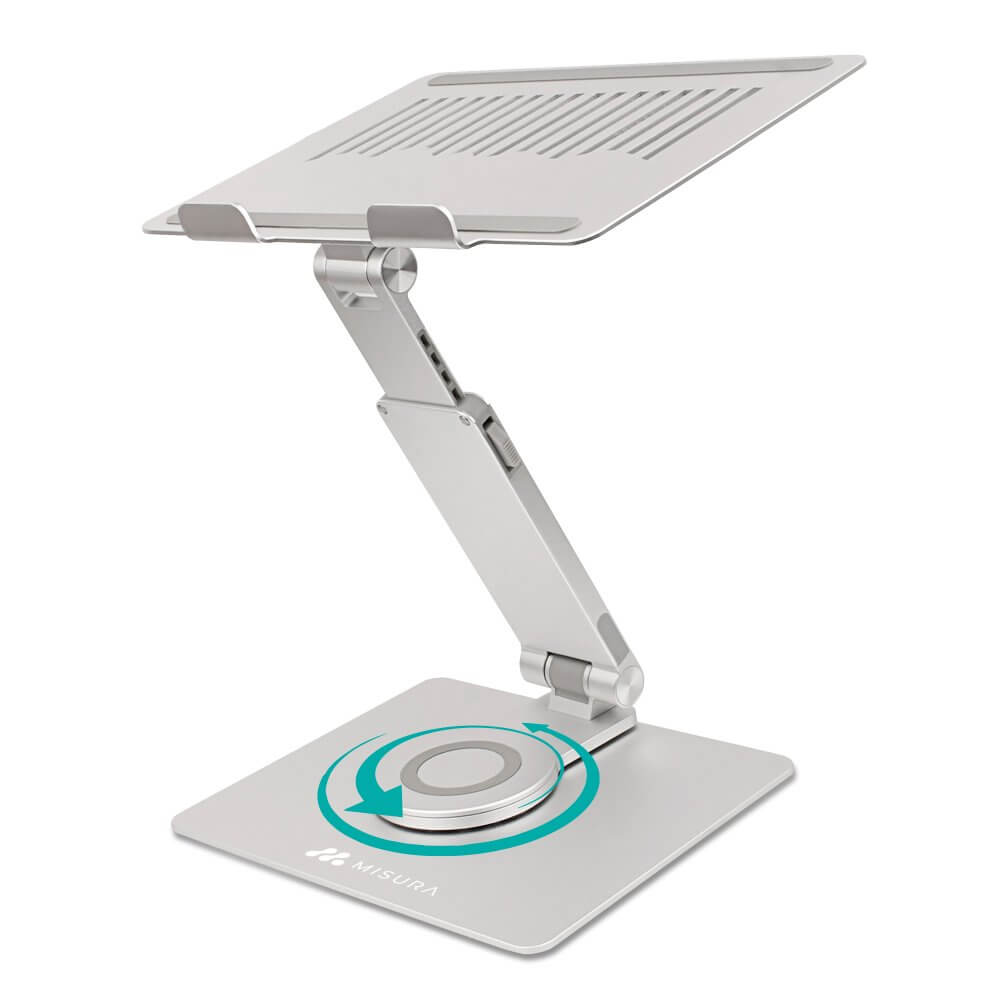 MISURA laptop stand ME20-SILVER
The ergonomic MISURA ME20-SILVER laptop stand for laptops with a diagonal of 10-17″ is made of aluminium construction and silicone. For the right…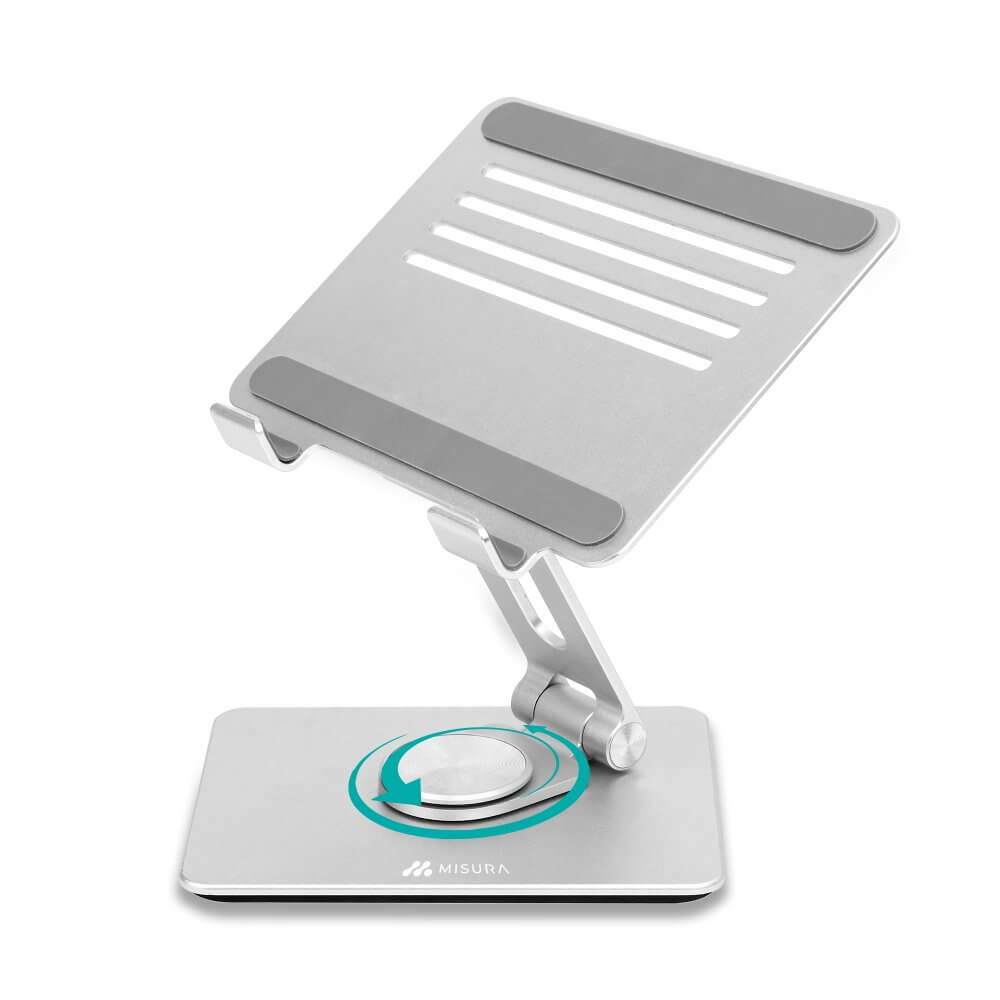 MISURA laptop stand ME21-SILVER
The MISURA ME21-SILVER ergonomic stand for smaller laptops, tablets and mobile phones is made of aluminum and silicone.