Today's demanding global and fast-paced times bring their downsides, in addition to the benefits of convenience and quick access to many services and products. These are the lack of time to oneself and also prolonged stress. The body is by nature set on a biorhythm where it needs plenty of time to regenerate in addition to activity, sleep and nutrition
Until a few decades ago, people did not have the means to live the kind of life that is common today. Technological development has not kept pace with the natural evolution of the biological organism. That is why activities with an emphasis on quality rest and regeneration are increasingly coming to the fore. Such activities include warm-ups before training, exercises to relax joints or muscles, regenerative and relaxing massages. Massage guns help to make these activities better and more effective.
Massage gun is a helper for massage therapists and trainers
The massage gun is not a professional masseur's tool. On the contrary, experienced masseurs and trainers are increasingly using quality massage guns in their practice. They know when it is good to use their hands and when it is necessary to massage the relevant area in depth with a suitable attachment. Professionals have the highest demands on massage guns. It must be powerful enough to massage the muscles thoroughly. It must be quiet so as not to disturb the client. It must have an ergonomic shape and vibration dampening in the hand so that the masseur can work with it all day. It must have a battery with sufficient capacity to handle hours of use. This is why Czech massage therapists and trainers have taken a liking to MISURA massage gun especially the most powerful version , the MB1 Pro
You can buy the MISURA massage gun at a number of Czech e-shops and directly on the official MISURA manufacturer's e-shop.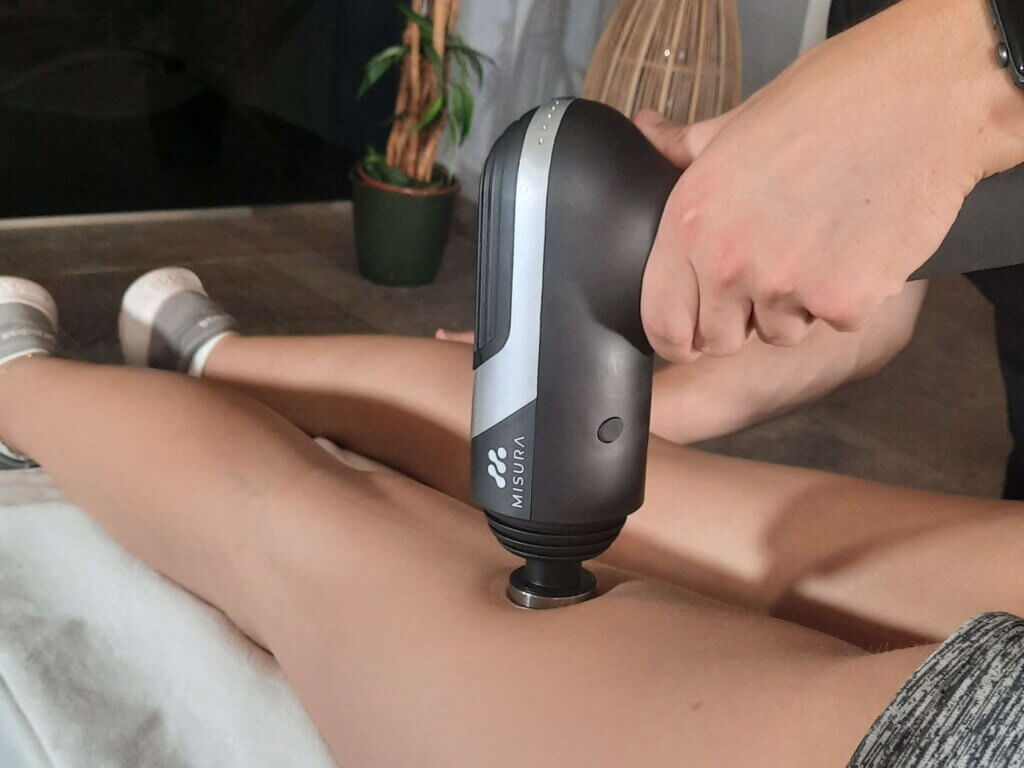 The MISURA massage gun saves you valuable time.
Due to the demanding work pace and workload, people today have less free time for themselves. There is little time left for taking care of their own health, including diet, exercise and relaxation. The massage devices developed by MISURA are designed to make it easier for you to take care of yourself. They give you a pleasant relaxation and muscle relaxation
If you don't have the skills to massage different parts of your body yourself, the MISURA massage gun is a great tool to help you boost your health, fitness, and loosen tight and strained muscles all over your body. You can use it whenever it suits you. It is portable and you can take it with you outdoors, to workout, or even to work, for example if you suffer from a stiff neck from office work
You can take it in your hand whenever you have a free moment and according to your time possibilities. Massage guns were only used by top athletes, but gradually they started to become known to the general public. Now the MISURA massage gun can serve as an accessory for every athlete who does not want to underestimate recovery and at the same time wants to save time
What is a massage gun good for?
Massage guns have the particular advantage of being practical in that they have several attachments with which you can massage any part of your body. Thus, the device is not strictly for massaging only one part of the body. With the help of massage you will achieve the necessary regeneration and also the massage will save you time. Thanks to the massage, you will speed up your recovery, and this will be especially appreciated by athletes who can start training at any time and do not have to count the days when they have to skip exercise. Another advantage of massage guns is that they are less noisy compared to other devices and the enjoyment of the massage will be better.
How to use the gun properly?
Massage guns contain attachments that are specially designed for specific parts of the body. The heads are designed to massage the back, neck and cervical spine. Other types are suitable for massaging the arms, legs, feet, or hands. Other types of heads reach deep into the muscles down to the bones. The MISURA massage gun is ideal for relaxation massage, but also for pain. It is also suitable for massaging muscles before and after sports performance. Massage of one part of the body should not exceed more than 10 minutes. For example, the MISURA massage guns have a function called Smart Shutdown, which is used to switch off the gun spontaneously if the massage exceeds 10 minutes. This is to avoid possible damage to muscles and bones and also to prevent continuous massage on one part of the body. It is advisable to massage the muscles evenly all over the body.
Tips on how to speed up the warm-up.
Before any exercise, the body needs to be sufficiently warmed up and prepared for physical activity. Stretching and warming up helps with this. But athletes should also include a pre-exercise massage in their schedule, which should be quick. It should not be intense, as more intensity helps to relax the tissues, and this is not advisable before exercise
With the right tactile cues, the athlete should feel arousal. Of course, time also plays an important role here, which is why proper stretching and warm-up are forgotten. And for the massage, we need a second person to perform the right strokes to get us excited. So how can we get the body sufficiently warmed up and ready for performance without having to spend time warming up or looking for a masseur?
MISURA massage guns are the answer. Because thanks to the massage device we prepare the body sufficiently for the performance and get the blood flowing in the body, the athlete can do without stretching and use the massage gun instead. Massage before exercise is suitable because it reaches deep into the muscle tissue with its pressure pulses, thus warming up and getting the blood flowing. In addition, you can use the massage gun again after the physical activity to speed up muscle recovery.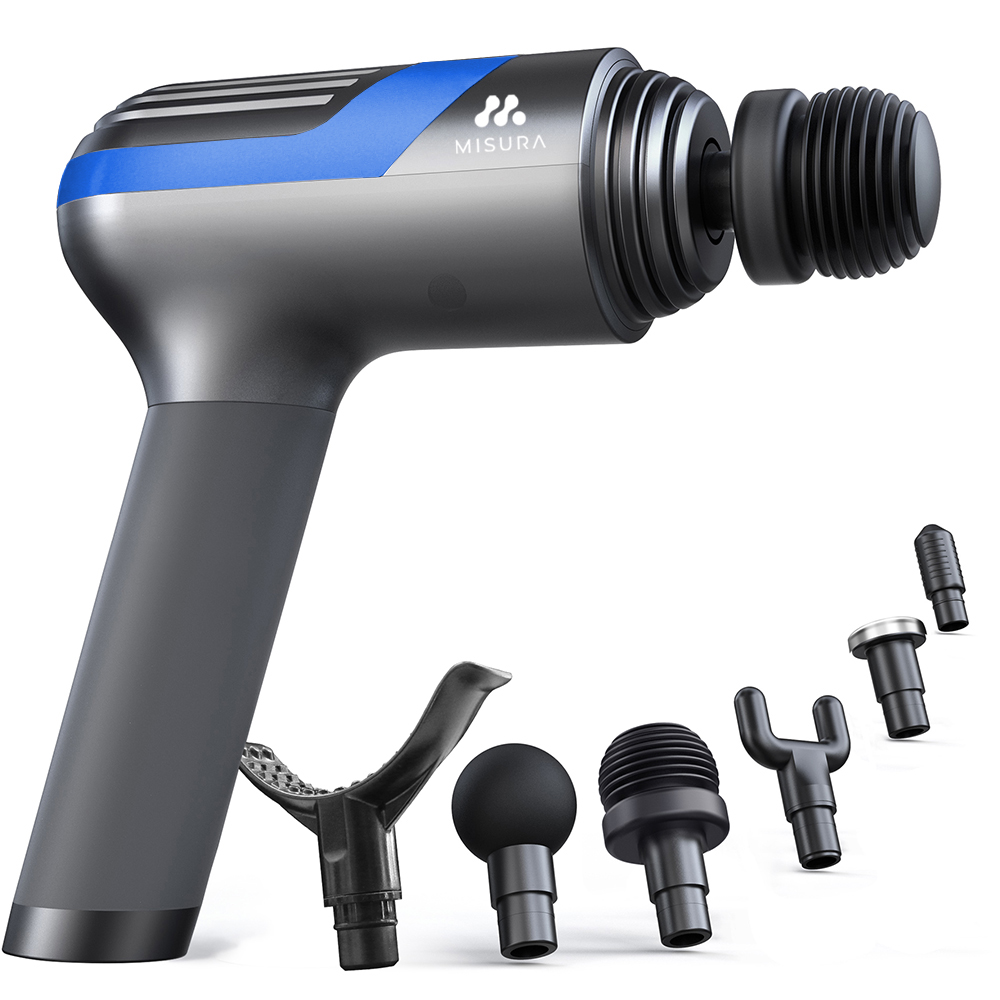 MB1Pro massage gun
Massage gun MB1Pro, 25 x 7.5 x 22 cm, Operating time 8 hours, Battery Li-ion 2500mA, Package includes Massage device, 6x massage head, Power adapter,…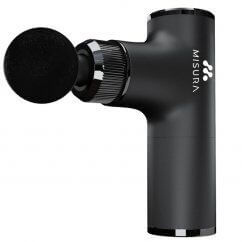 Why is muscle massage important?
Muscle massage is a part of life for athletes and people who are not involved in sports. Before any massage it is important to relax and be sufficiently warmed up. During the massage, the muscles are relaxed, the pain is removed, and the blood circulation is also stimulated.
Thanks to regular massage, fatiguing substances, which we consider to be lactic acid, carbon dioxide or creatinine, are then removed. The tendons and muscles are then better blooded and do not develop painful stiffness, which causes pain due to the lack of blood circulation. The muscles are then not as efficient, and massage is the solution that will cope with both flaccid and stiff muscles.
No part of the body should be forgotten and therefore every muscle in the body should be given a massage. The MISURA massage gun contains up to six heads that can be used on a given part of the body. In the package we find a forked, spiral, flat, crescent and air cushion head. All heads are ergonomically shaped for the body part in question.
The MISURA massage gun contains four or six heads depending on the type of product you choose. If you want to indulge in a muscle massage, it is most ideal to use the ball head. The modern elegant practical design, easy operation will win you over quickly. The massage gun has different types of heads to massage different types of muscles. The ball head is suitable for arms, waist hips and more. The spiral head is for massaging tissues, joints, hands and feet. The flat head is suitable for relaxing and shaping muscles. The forked head then helps in massaging the neck, spine and Achilles tendon. The crescent head will help on the shoulders and legs.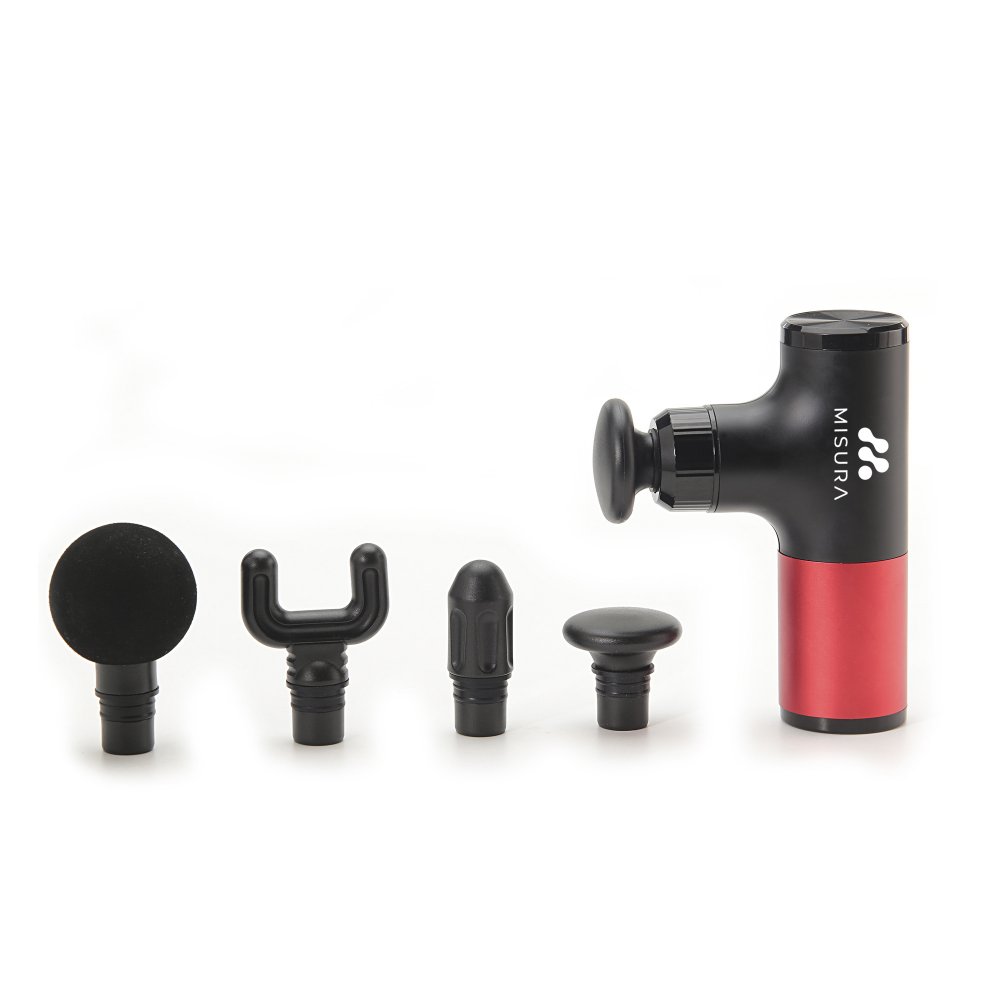 MB3 massage gun
Massage gun MB3, 14.5 x 9 x 4.5 cm, Operating time 3-4 hours, Li-ion battery 2000mAh, Package includes Massage device, 4x massage head, Instructions
Why use the massage gun after exercise?
After every exercise, sufficient recovery of the strained muscles is necessary. Due to the release of lactic acid, there is also a risk of unpleasant muscle cramps. It is advisable to include rest, resting regime, and also continuous massage of the muscles. Massage helps to stimulate the muscles and relieves tension. It relaxes and warms up stiff muscles. You can use the massage gun not only after a hard workout, but also after recreational sports or even after hard physical work.
MISURA has developed a special massage device that will help you with regeneration. In the MISURA massager we find a spherical head that, when used, reaches muscle groups up to 12 mm deep. It quickly dissolves the lactic acid that is formed by physical exertion and thus relieves muscle tension. It is suitable for bulk muscle groups such as thighs, calves, waist, hips and arms.