Even your feet deserve sufficient care and massage. People often neglect this part of the body, preferring instead to massage the back. Attention is only paid to the feet when the pain starts. Do you also have problems with foot pain? When it comes to massaging this area, many of us think of a mini whirlpool massage, where we dip our feet in and the bubbling bath relaxes our feet. So foot massage is a pleasant kind of relaxation. However, today's range of foot massagers goes further than we think. The aforementioned massage tubs, a device called a massage shoe or even various vibrating pads are well known. However, the downside of these devices is that you also have to know if your feet will fit in the massager.
What to look out for when choosing a massage device
When choosing a massager, you need to answer a few questions that will make the choice easier. Do you want a machine that you can relax with? Or are you looking for a reasonably priced device that offers "a lot of music for little money"? After answering these questions, you should focus on the performance of the instrument, which should ideally be as high as possible. Next, choose a device that is quiet. Many massagers would gain more success and popularity if they didn't make so much noise around.
Massage gun as the most suitable massage device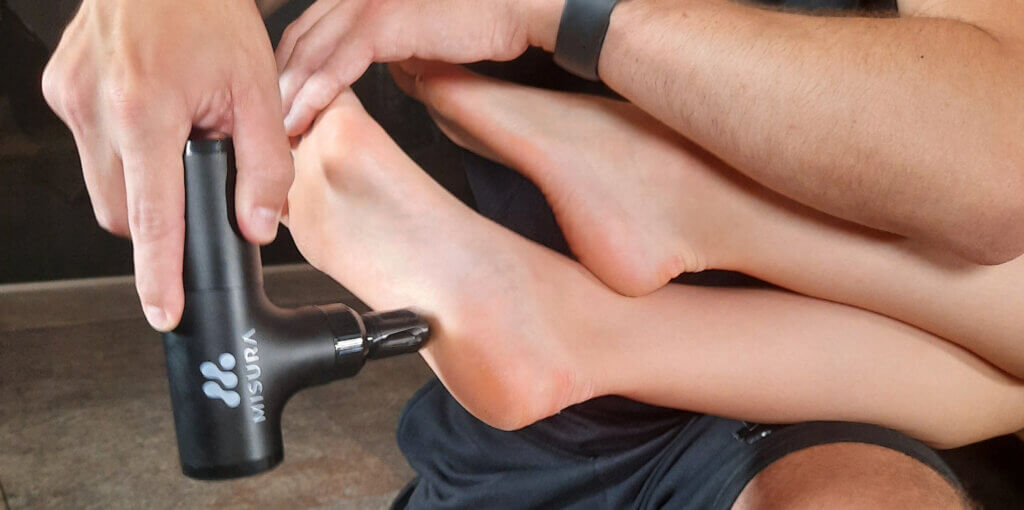 Another alternative is the massage guns, which became popular first among athletes as well as massage therapists and now there is an awareness among people in general. Compared to the massage tub and the massage shoe, their advantage is their easy handling and portability, so you can carry them with you in your bag or purse. Moreover, they are lightweight from other massage devices and you can get a massage wherever you want and you are not limited by space or time. For example, the MISURA type MB1Pro massage gun weighs just a kilo and even the smaller MB3 and MB4 variants boast that they weigh just half a kilo.
Have you heard of the MB1 Pro massage gun?
The MISURA MB1Pro massage gun is an innovative quality massage device that reaches deep into muscle tissue with its pressure pulses. This results in better blood circulation, the breakdown of lactic acid, and also accelerates regeneration. It has a powerful 70W motor. The advantage is also a high-quality brushless motor, which makes the operation of the sound quiet, refined and without unnecessary shocks. It reaches a maximum of 35 decibels. Together with the gun, six massage heads are included in the package, which can be used on different parts of the body. It also offers the option of five speed modes to give you a massage to suit your needs. The massage gun is equipped with two modes, namely manual and SMART mode, which activates the smart pressure measurement technology. The intensity of the massage is then adapted to your requirements.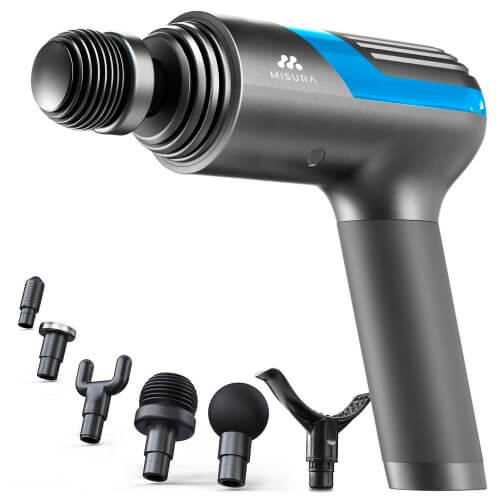 MB1Pro massage gun
Professional massage pistol. Operating time 8 hours. 2500mA Li-ion battery.
Massage head
Massaging the feet and hands is a very pleasant and popular activity. The feet and hands contain nerve endings and many pressure points that are connected to our internal organs. In the context of foot and hand massage, it is called reflex massage. You can indulge in this too with the MISURA massage gun. The massage gun contains a spiral head that is suitable for massaging the feet, hands and joints. It is also suitable for deep tissue pulses.