In 2021, MISURA introduced a dual portable monitor in Central European markets. These revolutionary monitors have generated a great response among customers and sales have been growing ever since. Czech, Polish and Slovak customers in particular have become very popular and sales in these countries are breaking incredible records. Other manufacturers also liked the idea of dual portable monitors, and various attempts to copy the dual portable monitor soon began to appear. One not-so-successful attempt, for example, was a magnetic mount monitor, where the magnet simply wasn't strong and stable enough to support the weight of the portable monitor. What is more, as time went on, counterfeits began to appear on the market that tried to imitate the MISURA monitors in a very unprofessional manner.
Why choose a portable monitor from MISURA?
MISURA constantly strives to stay one step ahead and provide its customers with the best possible advice and service. In all countries where MISURA operates, customers can rely on top-notch warranty and after-sales service, making MISURA products one of the top electronics manufacturers. MISURA is also in regular contact with end-users, managers, developers, copywriters and other people who use MISURA monitors for their daily work activities. And it is from them that MISURA receives so much valuable feedback and suggestions for improvement.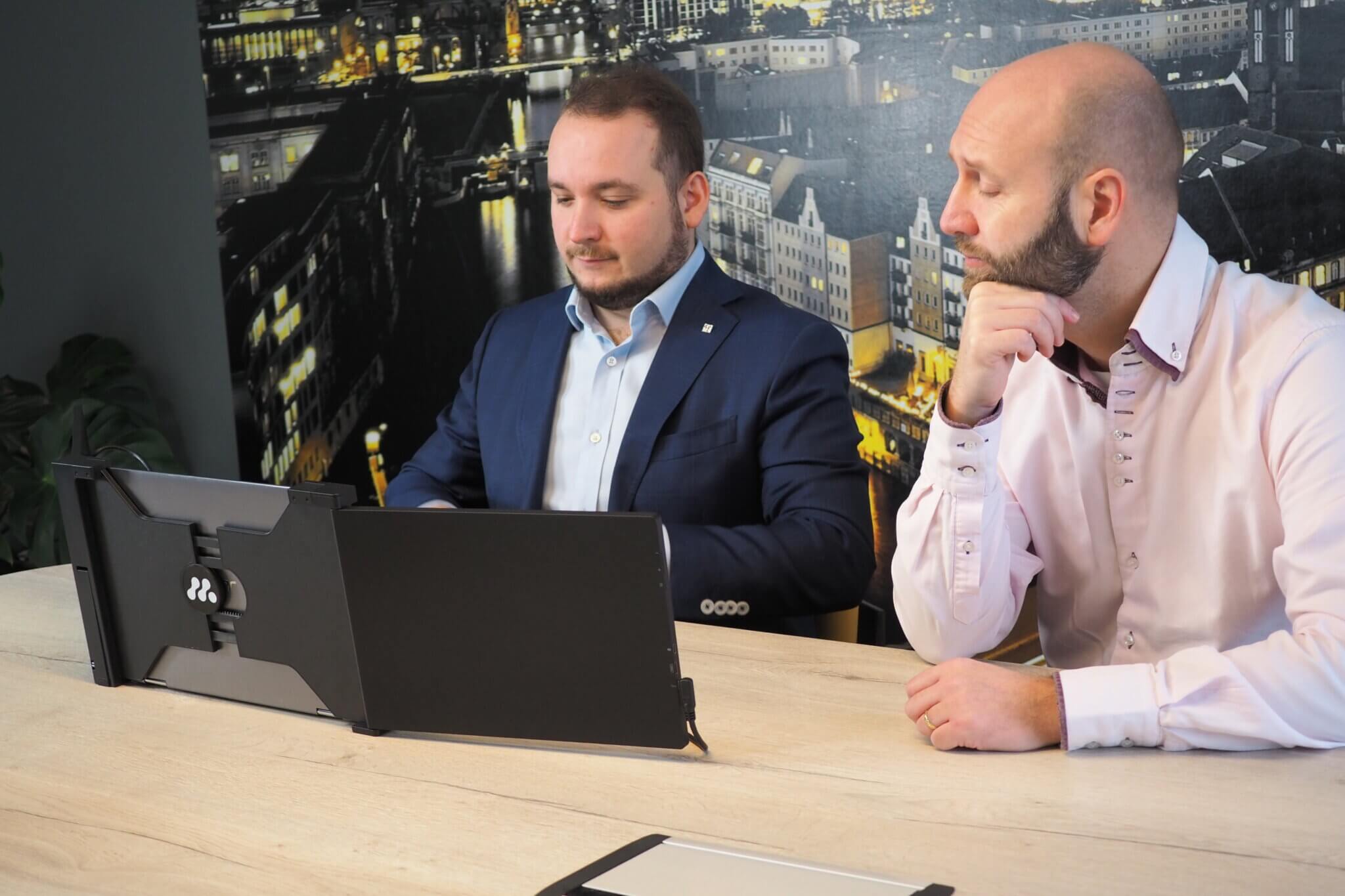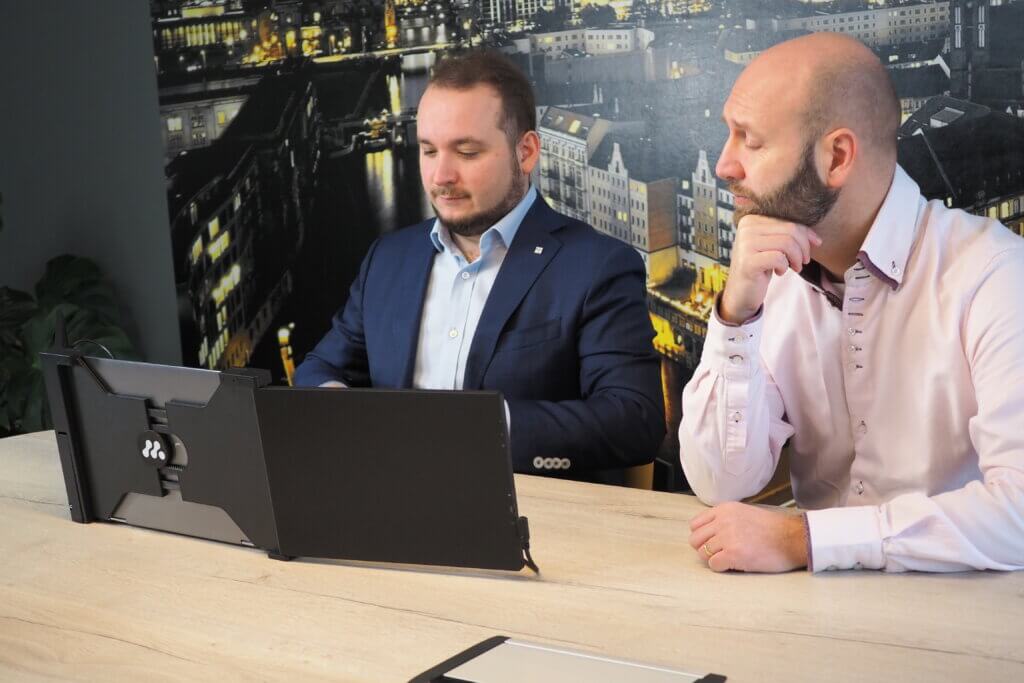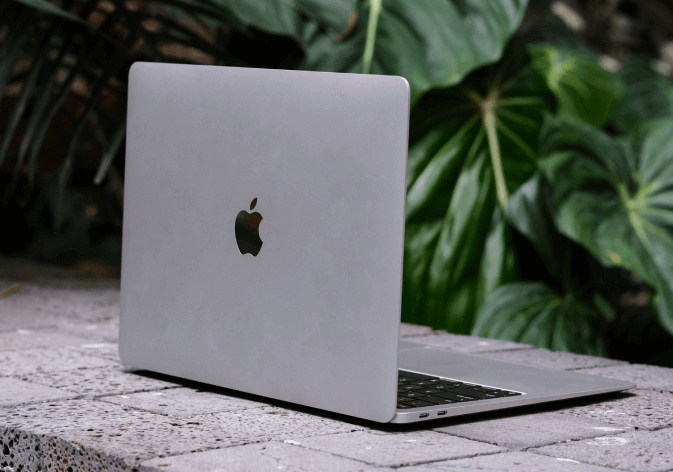 Why couldn't some Apple computers display a different image on each monitor?
One of the recurring pieces of feedback was a question about image transfer on dual monitors on Apple laptops with an M1 or M2 processor. On laptops with M1 and M2 processors, Apple does not support image transfer for multiple external monitors. This is a limitation directly from Apple, and because MISURA values all of its customers, it has decided to find a solution for owners of Apple laptops with the popular M1 and M2 chips , and extend support for video transfer technology to these models. The new MISURA dual monitors can thus be fully used with laptops that have M1 or M2 chips.
Can a dual monitor be powered by only one cable?
A second, equally important feedback from dual monitor users was to reduce the number of power cables to just one. Again, a modification of the existing technology had to be chosen to move the jumper function inside the MISURA monitors. This achieved the intended effect and one cable to the computer thus registers multiple connected devices, i.e. two separate monitors.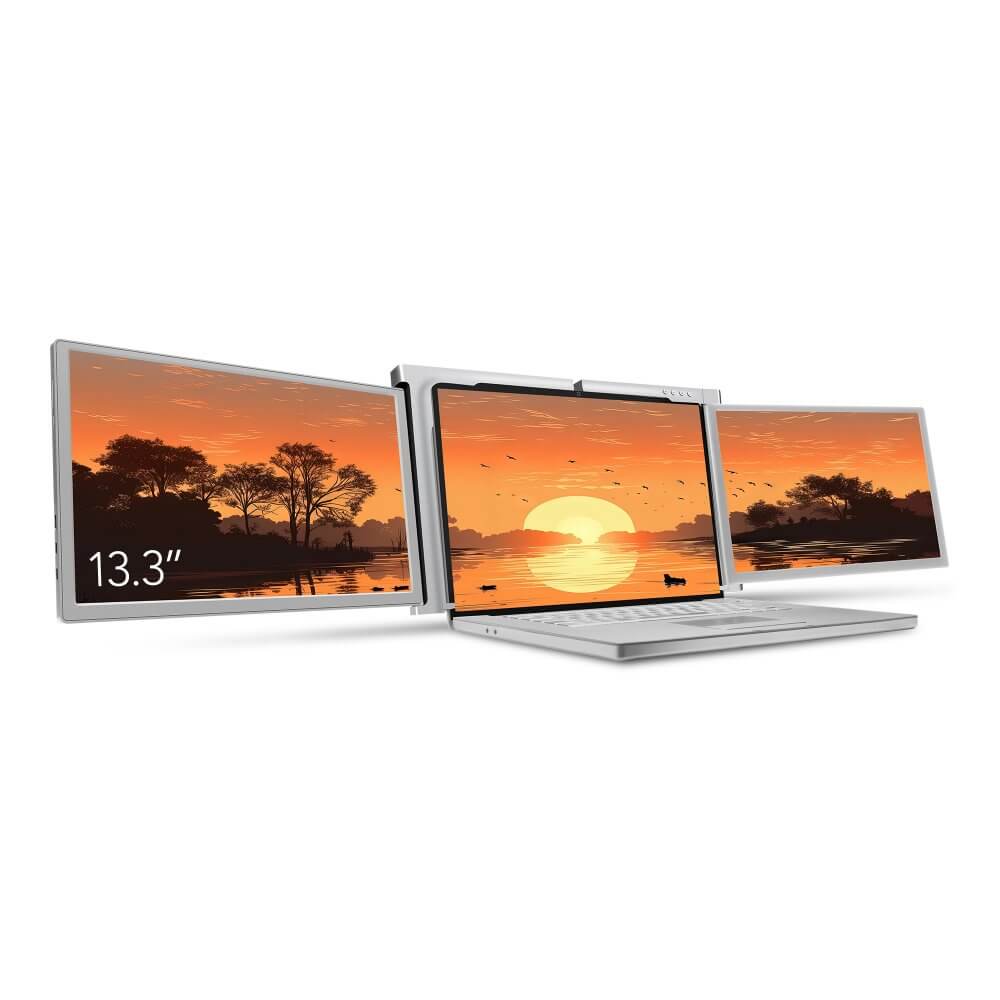 Portable LCD Monitors 13.3″ one cable – 3M1303S1
Portable LCD monitors – 13.3 " ONE CABLE, Full HD, IPS, 250cd/m2, USB-C. Suitable for laptops of 13″ and larger.
New challenge for MISURA regarding compatibility with Apple's M1 and M2 chips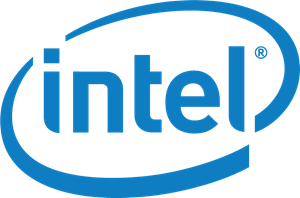 MISURA is not afraid of challenges and has taken customer requests in stride. First, it focused on the display of the monitors themselves, trying to find a way to display a different image on each monitor simultaneously. The first option was to use a hub that could do this. MISURA did thorough market research and tested the functionality of a large number of different hubs, docks and jumpers, but none of them delivered the expected result.
This was followed by a thorough analysis of all the devices, testing and analyzing them until the developers discovered how to transfer two independent images even with the M1 and M2 chips fitted to some Apple computers. Initially, MISURA considered going the route of an external hub that could bypass Apple's restriction on M1 and M2 chips, but soon rejected this solution and decided to completely rebuild the current monitor body and incorporate everything needed directly into the device.
The new dual monitors already transmit a different image on each device, even for owners of Apple computers with M1 and M2 chips
The seemingly unsolvable problem was eliminated in a truly unconventional way, although it took a lot of effort. Developers, software engineers, and eventually engineers examined key components and figured out a way to technically change the product. This was followed by the production of prototypes on which to test the new design, and although it was a significant intervention in the monitor design, today the new range of dual monitors are designed to have the ability to transmit a different image on each monitor, even to owners of Apple computers with M1 and M2 chips. It is now safe to say that thanks to a concerted effort, there is no need for a hub, but it is a capability built right into the product. Dual monitors now have the ability to transmit a different image on each monitor even on Apple computers with M1 and M2 chips.
The same strategy was adopted in an effort to reduce the excessive number of cables to just one. Thanks to technological adjustments, endless testing and prototyping, the monitors have only one USB-C cable, which is great for transferring images on both monitors simultaneously.