Smartphones are playing a key role in our lives over time. They are often used for work, play, social life, as an endless well of information and to stay in the loop. All of this means that we often don't let our smartphones out of our hands for hours, let alone out of our reach. The mobile phone stand allows you to keep your device close at hand at all times, and at an ergonomic angle so that you don't get neck pain from prolonged use. Of course, there are many options on the market, so in this article we'll look at the parameters that should help you choose the ideal mobile phone stand for your needs, and finally we'll look at a few products from MISURA, a brand that stands out not only for the ergonomics of its stands, but also for their design, durability and affordability.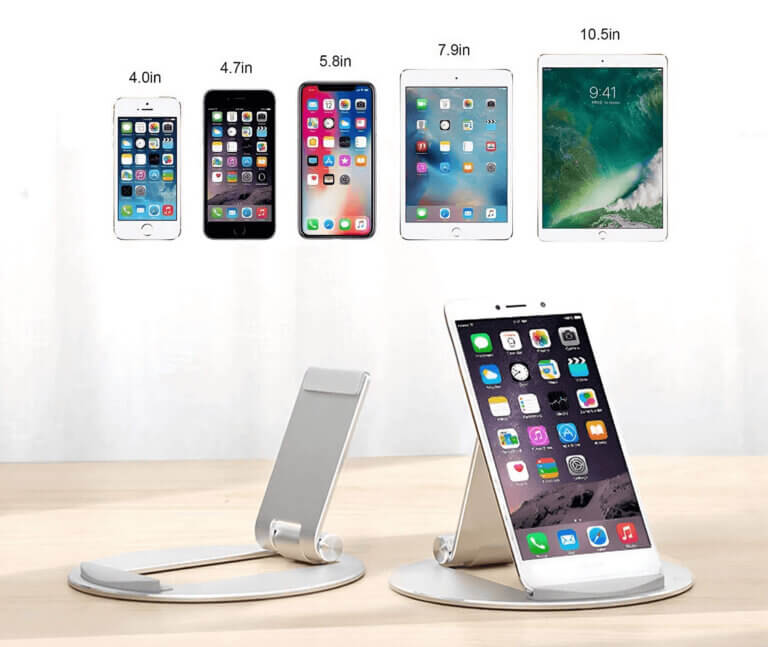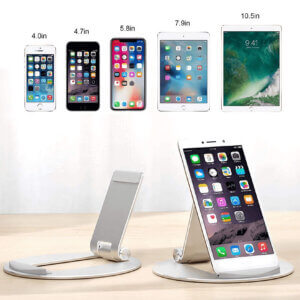 Compatibility
Compatibility should be a key factor in every customer's purchasing decision. Not all stands are compatible with your device, so read the product descriptions carefully before buying and save yourself from the unpleasant surprise of having your phone held in the stand by the so-called half-mast. The best choice in this respect are stands with adjustable grip widths, as you don't have to change the stand later with your new phone.
Stability
Another key factor to think about when choosing a mobile phone stand is stability. Your device shouldn't wobble when in use or risk your phone falling off the stand when it hits the table. The stand should also hold firmly in place without the need for screwing or gluing, and it should be equipped with a non-slip pad that also protects your desk from scratches.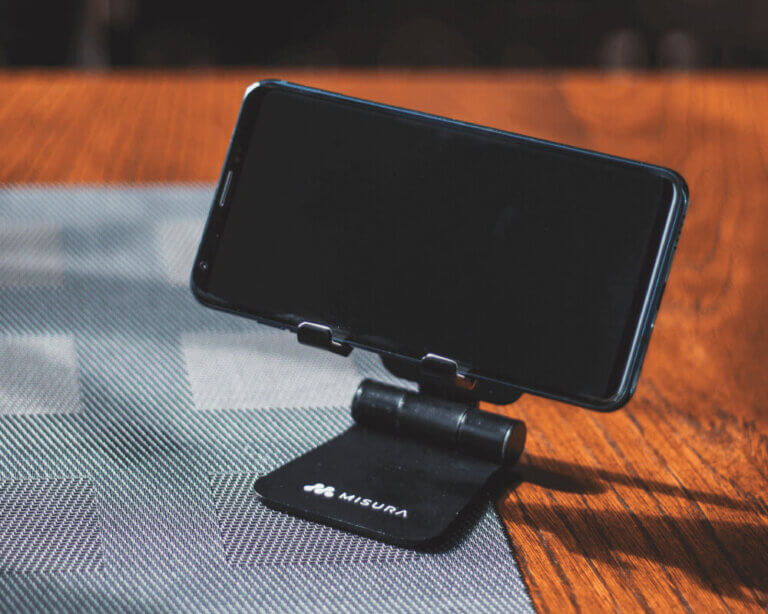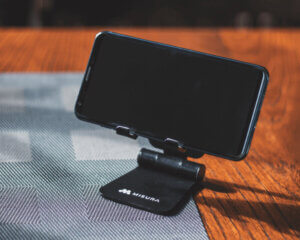 Adjustability
As a user, the more adjustment options you have at your disposal, the better the stand you buy. Of course, it's all about preference, some people prefer a simple stand design in the simplest possible way, while others need to be able to adjust the height and angle. When it comes to the ergonomics of the stand, it is always better to have a choice, an adjustable stand is more likely to help you to get the right posture and avoid pain in the back and neck areas.
Versatility
When choosing a mobile phone stand, keep in mind that a quality stand made of, for example, aluminium alloy is very likely to outlast your phone, or even your workspace in a broader perspective. Therefore, choose a stand that can be easily folded into a bag when needed and whose design fits multiple types of phones as well as different interiors.
Charging
Choose a stand that not only looks good but also charges your phone. Users today have two options in the form of standard USB charging or wireless charging. Ideally, if your phone supports it, choose a stand with QC (Quick Charge) or wireless QC charging support.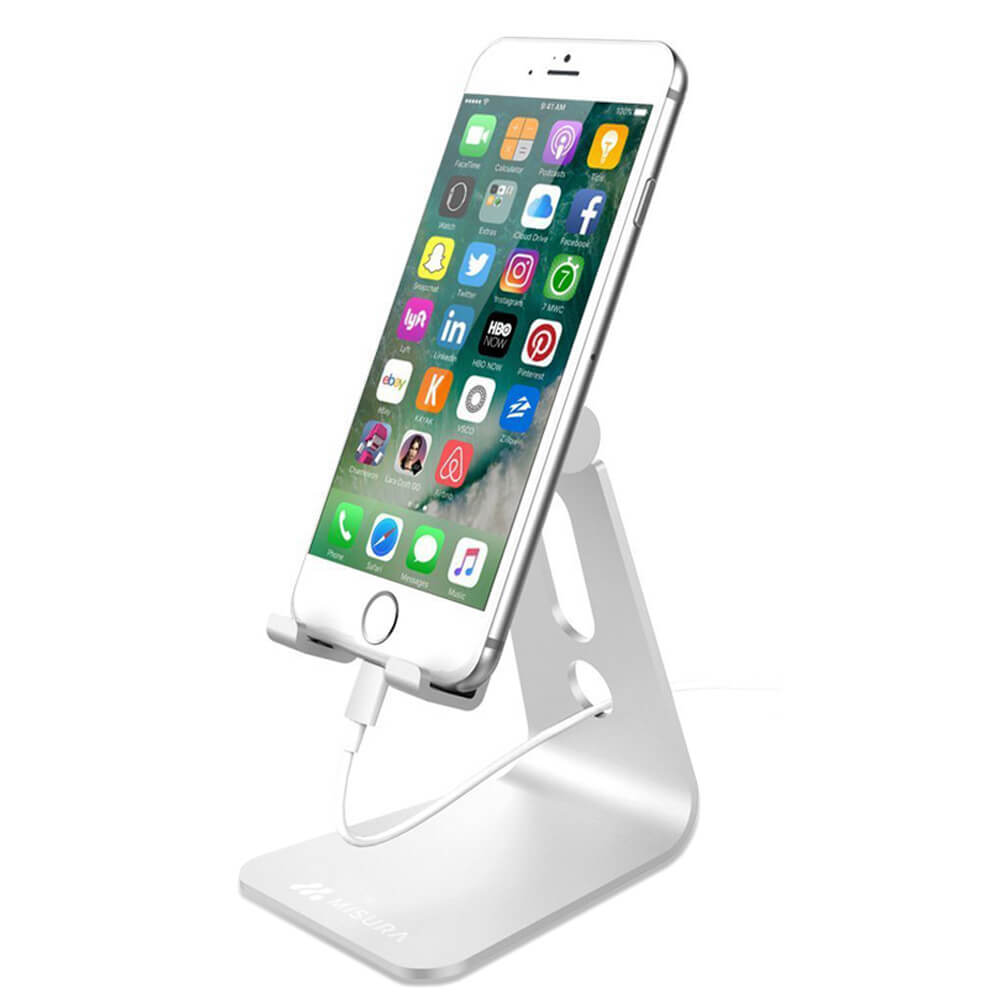 MISURA mobile stand ME17-SILVER
The ergonomic mobile phone stand ME17 is suitable for every type of mobile device. It has anti-slip feet and surfaces that allow a stable grip…
MISURA ME17 mobile phone stand
This versatile stand for all types of mobile phones stands out with its ergonomic design that also improves airflow around the device so you don't overheat your phone. In addition, it has an adjustable shaft that allows you to adjust the tilt up to 270 degrees. The stand is equipped with both a non-slip pad and a silicone shock-resistant cushion to prevent scratching both your desk and your mobile. The stand is a great choice if you are looking for something very affordable and elegant.
MISURA ME18 mobile phone and tablet stand
This versatile stand for 5.8-12.9″ phones and tablets is easier to carry compared to the ME17, as its design simply folds back into a round base. This makes it ideal for travel and also makes a great addition to the interior of any workplace. Like all MISURA stands, the ME18 is made from high quality aluminium alloy, guaranteeing a long product life.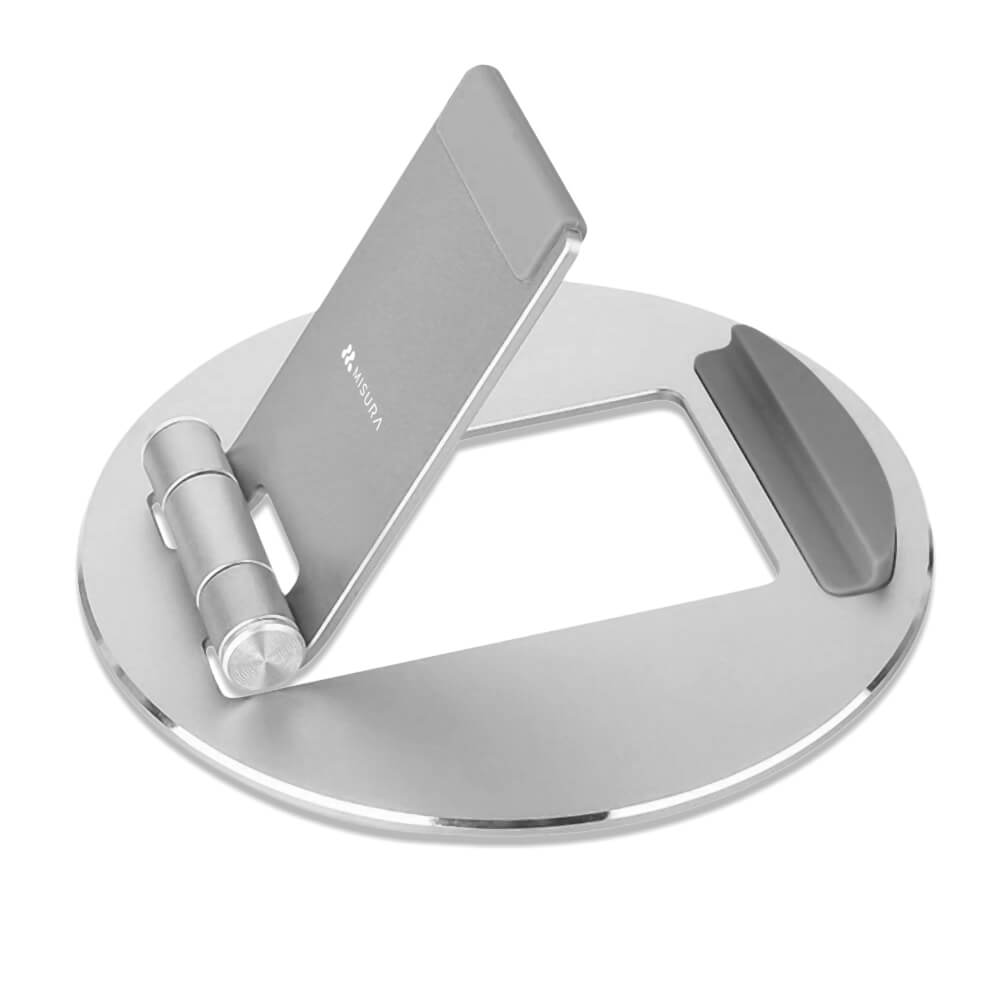 MISURA mobile phone and tablet stand ME18-SILVER
Stand for mobile phone and tablet ME18 with a diagonal of 5.8-12.9″. Made in an aluminum construction with an ergonomic design that allows the most…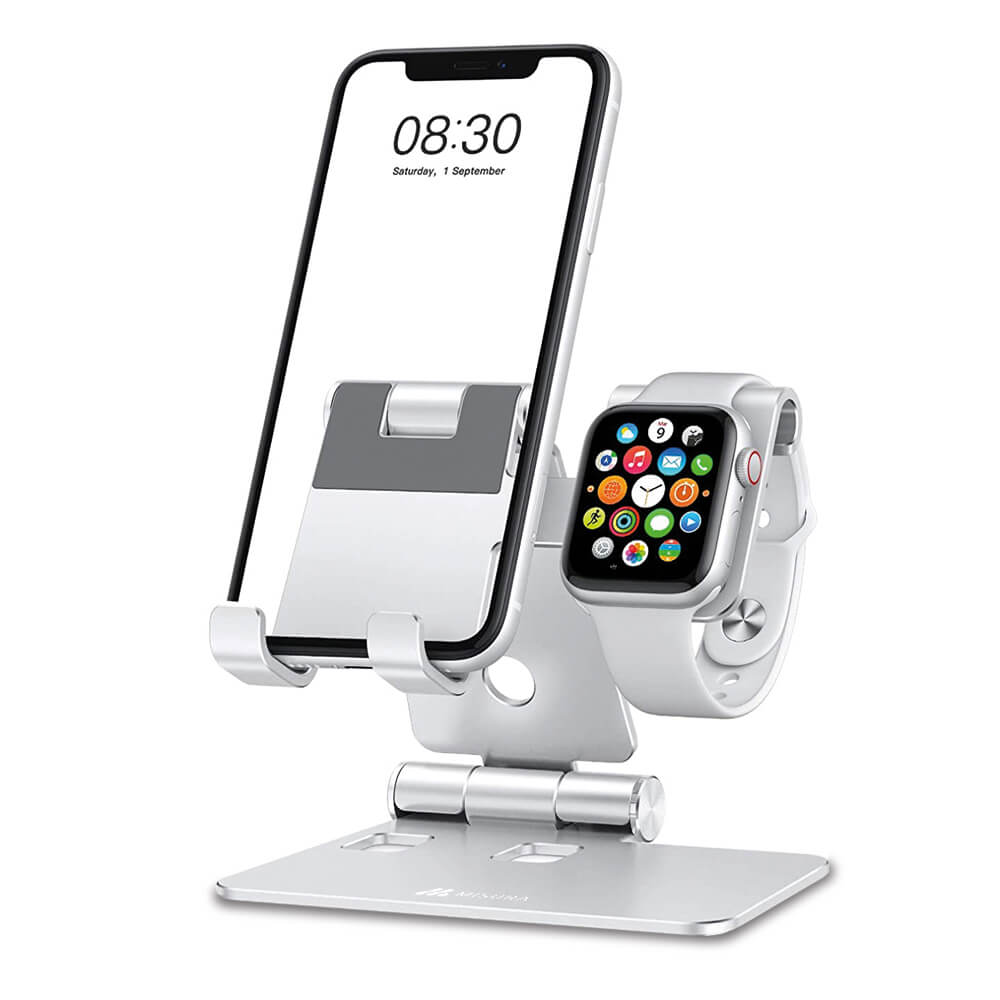 MISURA stand for mobile phones and watches ME19-SILVER
Ergonomic stand for mobile phone and watch ME19, width: 80 mm, length: 130 mm, adjustable height: 25-130 mm
MISURA ME19 mobile phone and watch stand
The ME19 stand features the added value of a slot for your smartwatch, giving users the opportunity to keep their valuable gadgets nicely together. The stand's design also supports charging both types of devices. For proper posture ergonomics, the ME19 stand also features an adjustable height option of 25-130 mm, making it suitable for all users.