Technology is constantly evolving , and in the mobile phone segment it is evolving twice as fast. But the more powerful our devices become, the more battery capacity they require. This raises the issue of the length of the charging process, as higher capacity also means longer charging times. Qualcomm was the first to attack this problem in 2013 with its proprietary Quick Charge technology. But how does it actually work?
Standard USB defines a voltage of 5 V with a maximum current draw of 500 mA to 2 A. From 2022, batteries with a capacity of 200 to 7,000 mAh are used in common mobile devices. We achieve faster charging by increasing the power flow to the battery to up to 20 V from the original 5 V. However, the mobile device itself, the power supply and the battery must be adapted to this. The mobile device has to contain modified circuitry, the charger has to support the change of the supplied voltage and the battery has to be modified so that the higher charging voltage does not reduce its lifetime.
The history of Quick Charge from the first to the last generation
Since 2013, when Quick Charge 1.0 was released, there has been a big leap forward.
While QC 1 had a voltage of 5 V with a maximum current of 2 A and a maximum power draw of 10 W, the 2015 version 2.0 has already jumped from the original 5 V to up to 12 V with a maximum current of 3 A and a power draw of 18 W.
The very next year, in 2016, Qualcomm released the Quick Charge 3.0 version.
Version 3 already has a voltage of 20 V and a maximum current of 4.6 A. The power consumption remained the same, i.e. 18 W.
Currently, users can also find QC 4, 4+ and 5 versions on the market.
Note
The first version of Quick Charge 1.0 was only supported by the Snapdragon 600 processor. Later versions 2.0, 3.0, 4, 4+ and version 5 already support the full range of Snapdragon and Gen.
Wireless charging and QC3
Wireless charging technology is becoming the new standard. Simply placing the device on the pad is a simple process, increasingly demanded by users. But how does wireless charging work?
As with data, which is now commonly transmitted over the air, we are technologically at the beginning of the same type of power transfer. The Qi (Chinese for life energy) standard from 2008 is the most established so far. Wireless charging works on the principle of electromagnetic induction, which so far can transmit energy over a distance of just one centimetre. However, the technology is equipped with a communication capability that allows you to see the charging status on your device. Like an induction cooktop, the pad will know whether or not it is within range of a device it could charge. If it isn't, it automatically reduces its power to the minimum. Today, you can charge your mobile phones wirelessly at home, including through furniture with built-in inductive charging, on the move with wireless power banks or in the car with phone holders with wireless charging, for example. It is in the car while driving that you will appreciate this gadget the most, as handling the charging cable can be dangerous.
The MISURA MA04 self-charging mobile phone holder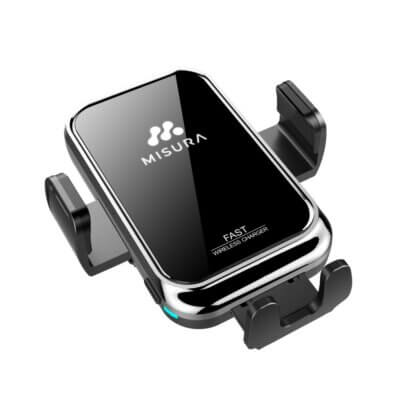 MISURA offers a solution in the form of the fully automatic mobile phone holder MA04. In this sense, it distinguishes itself not only by its automatic phone presence recognition, which makes its use very user-friendly and easy, and handles any type and shape of mobile phone with ease, but also by its locking mechanism, which leaves your hands free to drive the vehicle to the maximum extent. The holder simply recognises that you have inserted your device and locks it in place. It also has a button for manual locking, in case someone is not comfortable with automatic locking. The same goes for wireless charging.
The MA04 holder features QC3 fast wireless charging with input voltages of 5 V/2 A, 9 V/2 A and 12 V/2 A. It has a 15 W output, but also supports 10, 7.5 and 5 W. It is compatible with mobile phones sized 4.7-6.9 inches. So you can have your mobile phone fully charged in minutes. Like all MISURA products, the MA04 mobile phone holder is designed with all users in mind and therefore includes a built-in standard USB-C connector for those whose phone does not support wireless charging.
Its other great advantage is its flexibility. You can use the suction cup to mount it on the windscreen, on the dashboard or in the ventilation grille by means of the vent holder with silicone pad and lockable switch. When attaching with a suction cup, you can further adjust its position to best suit your seating style thanks to the universal ball on the arm with an anchor switch. The arm is also extendable, so you can zoom in and out within a few centimetres at will.
The holder is made of aluminum alloy, high-strength non-slip plastic, ABS and silicone. This makes it both lightweight and very durable.
In the package you will find 1x wireless charger, 1x USB-C charging cable, 1x air vent holder and 1x telescopic base with suction cup for glass or dashboard.
The MA04 self-charging phone holder is available in two versions, universal black and elegant silver. This fully automatic holder with wireless Quick Charge 3 (QC3) charging technology is a great choice for maximum safety and convenience on the go.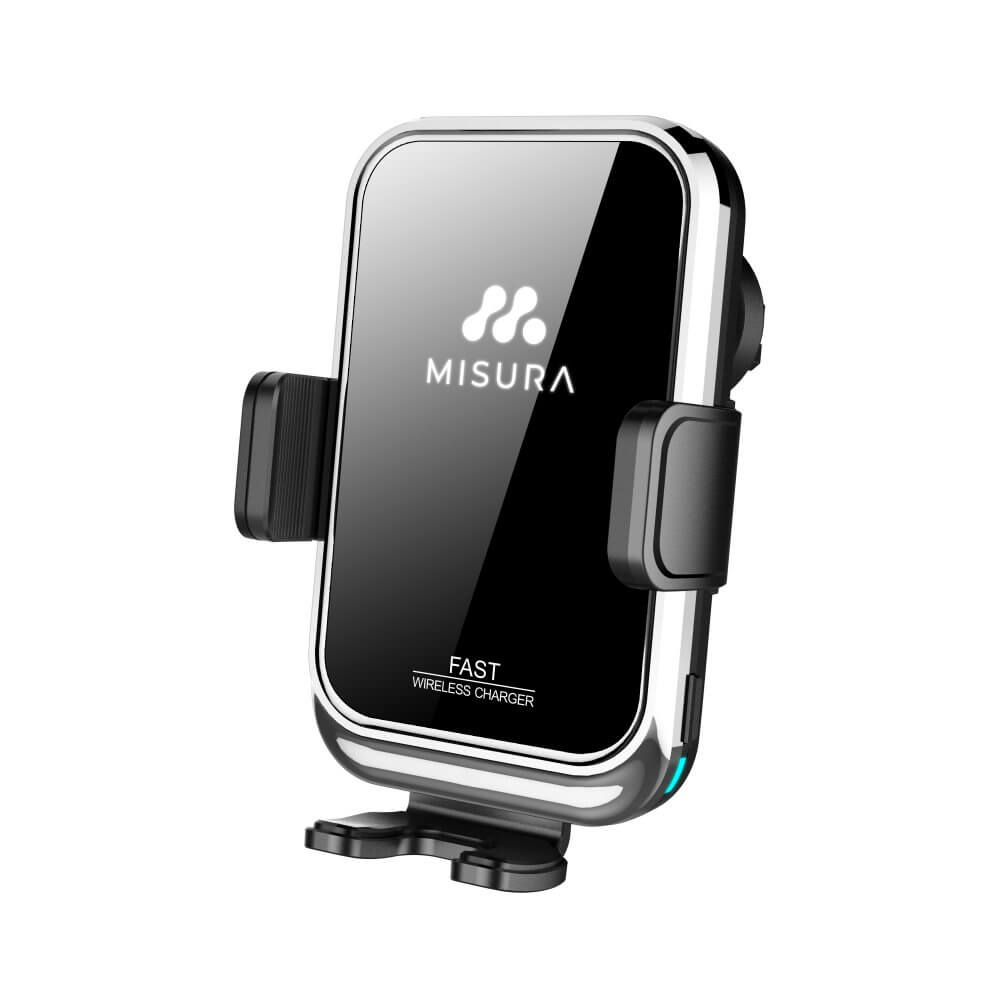 MA04 – Car phone holder with wireless QC3.0 charging SILVER
Fully automatic holder for securely attaching your mobile phone in up to three ways, with QC3.0 wireless charging function.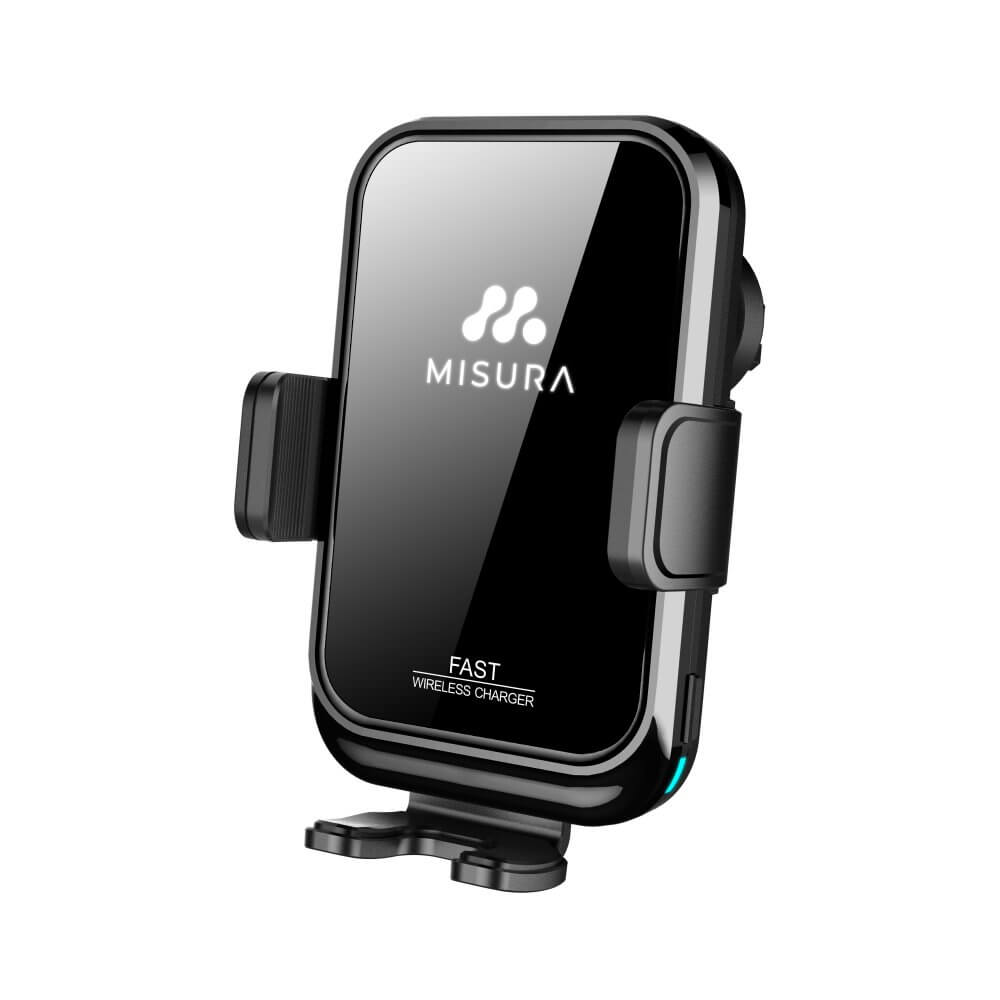 MA04 – Car phone holder with wireless QC3.0 charging BLACK
Fully automatic holder for securely attaching your mobile phone in up to three ways, with QC3.0 wireless charging function.