The car vacuum cleaner is a convenient and practical tool for cleaning your car. Many people spend quite a lot of time in the car, so it is natural that this electrical appliance can make cleaning the car very easy and enjoyable. What should you look for when choosing a car vacuum cleaner from a fairly wide range? The best handheld portable car vacuums have the advantage of being very lightweight, portable and you can use them to clean even very hard to reach places. One of the best car vacuums is the MISURA. It is also suitable for the caravan, camping or cottage. Thanks to its very small dimensions and light weight, you can take the MISURA car vacuum cleaner with you anywhere, even on longer trips abroad
1) How to choose the right car vacuum cleaner?
What to look for when choosing the type of vacuum cleaner? You can ask yourself which vacuum cleaner parameters are essential for you.
Vacuuming efficiency.
The method and areas of use
The right type of vacuum cleaner for the purpose
Volume of collection container or bag
Type and efficiency of filtration.
Noise and energy consumption.
Equipment and other features.
There are different types of vacuum cleaners, from conventional to multifunctional industrial, stick, handheld 2in1 or robotic vacuum cleaners. However, these variants of models are not very suitable for vacuuming the car, as it is not very practical when parking on the street in front of a multi-storey house, because there is nowhere to plug the cord. It is also difficult to carry conventional vacuum cleaners because they tend to be heavy. The situation can be different for houses where you park your car where your vacuum cleaner can reach. But not everyone can afford that luxury. For this reason, handheld portable vacuum cleaners, which include MISURA, are more likely to be used for car cleaning.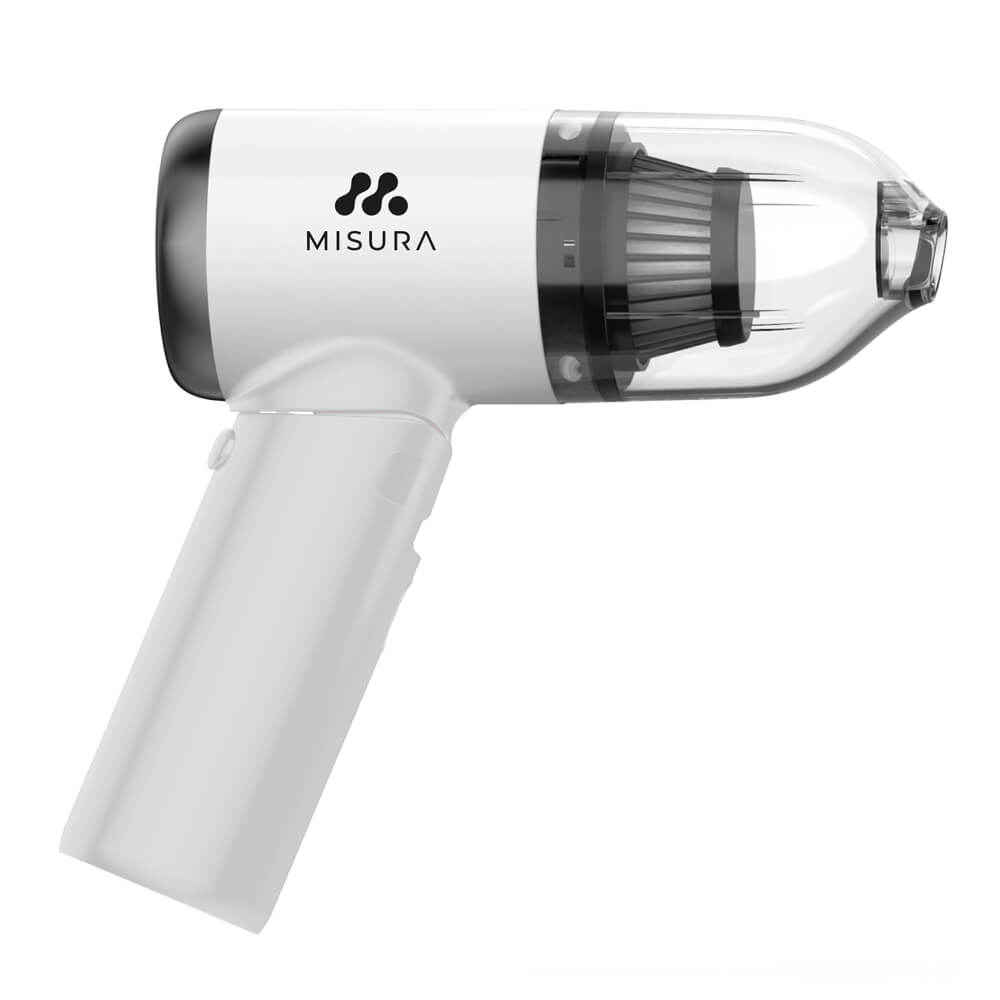 MA01 – cordless portable car vacuum cleaner, foldable, 5 000Pa, WHITE
The compact and quiet MISURA MA01 handheld vacuum cleaner is equipped with a Li-Ion battery that provides energy for up to 20 minutes of operation.…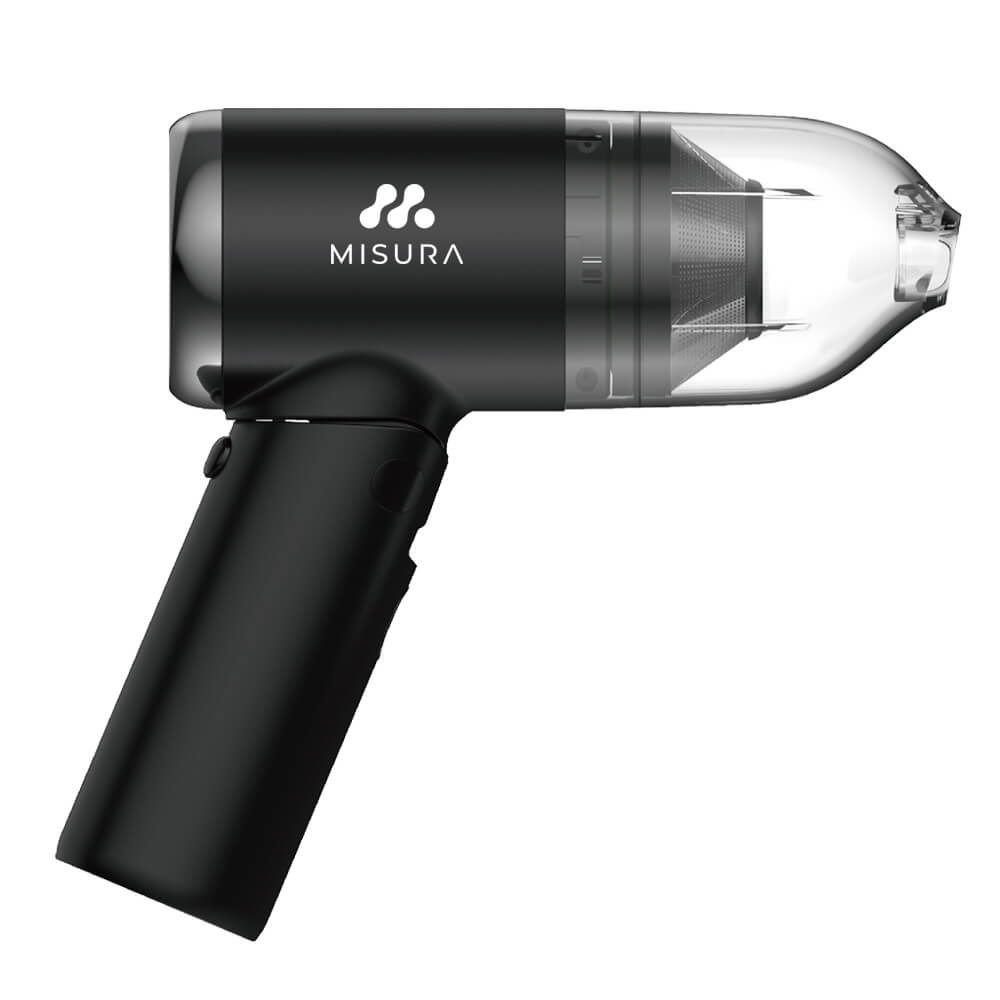 MA01 – cordless portable car vacuum cleaner, foldable, 5 000Pa, BLACK
The compact and quiet MISURA MA01 handheld vacuum cleaner is equipped with a Li-Ion battery that provides energy for up to 20 minutes of operation.…
2) Parameters and equipment of car vacuum cleaners
The best car vacuums are also judged on parameters such as power method and capacity, price, power input, suction power, size and dimensions, weight, storage, motor, bag or washable container capacity, filter type, material, volume and various functional accessories and equipment. It is definitely also important to consider how long the vacuum cleaner will last on a single charge when choosing .
Usually, car vacuums are smaller in size to fit in small spaces under seats, on the walls of the car and in the folds of seats and trunk spaces. The most popular car vacuums are the handheld ones.
3) Advantages of the MISURA portable car vacuum cleaner
A special feature of the MISURA vacuum cleaner is that it can be charged very easily via a USB cable. It is portable, very portable and one of the few that is cordless. It can handle even fine dust and hard-to-reach creases. With the MISURA vacuum cleaner you will enjoy cleaning your car. It fits easily in the glove box or in the side compartment of the door. It can handle dust, dirt, crumbs, pet hair and other debris.
4) Power source – power supply
You can further choose a vacuum cleaner based on whether it has low power consumption. There are two types – handheld vacuums powered by a battery or by a cord from a power outlet. The MISURA vacuum cleaner is a battery-powered appliance. You can manoeuvre it throughout the car and even in hard-to-reach places, with the added benefit of not being limited by the range of the cord plugged into the 12V car socket in the cigarette lighter.
5) Power consumption of the car extractor
Generally, for appliances, including vacuum cleaners, power consumption is a parameter where a higher value usually indicates a more powerful motor and better vacuuming capability. This isn't always the case, but in older models, higher wattage appliances usually have higher suction power, which means they will vacuum and clean the car faster and more efficiently. The wattage of a vacuum cleaner shows the power consumption, which is how much power the vacuum cleaner uses and needs from the mains. It usually ranges from 500 to 900 watts for home vacuum cleaners to the mains. Car vacuum cleaners then have a power input of between 50W and 150W
The MISURA vacuum cleaner achieves high suction power even though it has an input of only 70 watts. This is all thanks to innovative modern technology and a high quality motor that transforms most of the power from output to suction power. The MISURA vacuum cleaner has a power of 70 watts (5000 Pa) and a suction speed of 48000 R/m
6) Non-contact portable vacuum cleaner
MISURA is one of the unique vacuum cleaner models that allows easy and practical power supply via USB cable, which is commonly used for charging mobile phones.
The MISURA portable vacuum cleaner can be used in the car and in the home. It is lightweight, easy to carry and portable. Due to its small dimensions and low weight of around 0.3 kg , the MISURA vacuum cleaner retains its high suction power, which is complemented by a small brush for perfect cleaning even in hard-to-reach places. Charging is easy via USB cable. It lasts up to 25 minutes depending on the cleaning intensity. Charges to full capacity in about 3 hours. The container has a 0.1 litre capacity, so it is advisable to empty it regularly to maintain high performance and suction power. This is also what the MISURA waste bins are designed for, which can easily be hung anywhere. Available in white and black.
7) Car vacuum cleaner filters
Vacuum cleaner filters are used to collect small dirt and fine dust. They prevent you from inhaling the brach. MISURA uses dual filtration, namely a paper filter and a mechanical robust filter.
8) Car extractor accessories
Vacuum cleaners have different equipment and accessories. If you are looking for small portable car vacuums, they usually include various brushes and attachments to clean narrow crevices of the seats, dashboard, trunk, or side door areas.
The suction nozzle and brush attachment of the MISURA 2-in-1 vacuum cleaner will help you get into narrow crevices between the seats, behind the backrest, under the seats, etc. The brush attachment is used to clean dirt that has become embedded in upholstery, upholstery or carpets. The LEDs are a handy tool for knowing if the battery is charged. A practical vacuum cleaner case and accessories are also included.
The Misura is a quality handheld vacuum cleaner about the size of a small hairdryer with lots of benefits that will serve you well for a long time. It is exceptional in many ways. It is suitable as an ideal gift not only for all car and caravan owners, but also for home and travel.
ADVANTAGES OF THE MISURA VACUUM CLEANER
Small and compact
Easily portable while maintaining power and miniature size
Highly hygienic
USB-C charging
Easy suction of 5000 Pa
Wireless – no need for a cord
High efficiency and suction power
Powerful enough to clean your car perfectly
Suitable for different types of seats and floors
Best value for money
Multiple filters
Just dump the waste and throw it away
Relatively quiet operation
Easy maintenance
Handles food and hair
Gets into inaccessible places
Sleek and modern stylish design in both black and white